Cheer performs showoff in San Antonio
More than 2,000 people sit in the convention center, anxious for what's to come. The three judges watch the athletes on stage performing their routines.
Varsity cheerleaders will perform in San Antonio along with their new male teammates. The coed cheerleaders are competing in the UIL cheer competition next month and the showoff is a way for them to get feedback before the competition.
"We have been preparing for our UIL competition since November," varsity cheerleader Sumerlyn Yudell said. "The showoff this weekend is to prepare us [for] our coed UIL team [with] new members. Our boys and varsity girls work hard during practice and after school to be prepared for this event."
Four boys are incorporated in the routine by stunting and using flags. Senior Pearson Segina is a part of the coed team and loves the environment because of his mentor, who convinced him to join the team along with his best friend senior Alex Wilson. 
"I first heard of the team from one of my best friends, Alex, asked me to join, so I was automatically interested," Segina said. "I'm most looking forward to spending time with my teammates and improving on what we've learned."
The team is very excited to be competing are are hopeful to get top three at the UIL competition. Fight song won first last year. Choreographers come from out of state to choreograph special routines that they learn each year. The amount of commitment these girls give is extraordinary, taking time out of their busy weekends to rehearse and balancing competitive cheer with school.  
"What makes my team special is the amount of commitment that everybody has to doing wrong in the competition and taking time out of our weekends and doing this optional showoff in San Antonio just for feedback and get better is really something that'll help us improve," Yudell said.  "The amount of talent in our team is just so incredible just to showcase will really get us far in the competition." 
About the Writer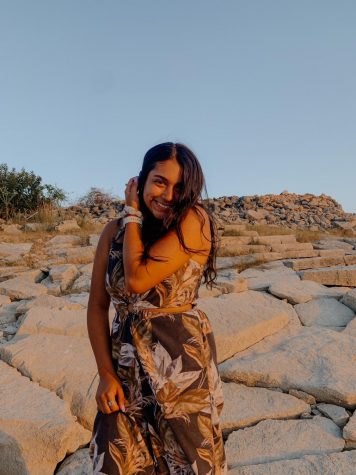 Marah Santiago, Staff Reporter
Marah Santiago is a senior, and this is her second year on the Vandegrift Voice staff. She enjoys spending time with friends and family. Her hobbies are painting and drawing. This year she is looking forward to make new memories.