Shoots by shores
Lady Vipers titled champions at Corpus Christi tournament
Lady Viper varsity basketball left school early last Wednesday for a three day tournament by the beach in Corpus Christi from November 14-16. They played five games and won each one, making them undefeated in the tournament. 
"Getting to play with my sister means a lot to me because we've been playing basketball together since I was five and she was four," senior Adilyn Pehrson said. "Getting to play the championship game for not only our school, but our team means a lot to me."
Pehrson and sophomore Skye O'Rourke both play on the team with their sisters, junior Kaya Pehrson and senior Cassi O'Rourke. They are the only two sets of sisters on the team.
"I wanted to win because it's my sister's senior year," O'Rourke said. "Being able to play our last out-of-town tournament in high school together and winning meant a lot to me."
O'Rourke and Pehrson were announced MVP's during the award ceremony. This means they were chosen as the 'Most Valuable Players' during the championship. 
"[Before the game] I was honestly extremely nervous because we had come this far," O'Rourke said. "Once the game had started, all my nervousness just went away and my head went into the game." 
Every breakfast, lunch and dinner the girls ate together. They also got a chance to take team pictures on the beach.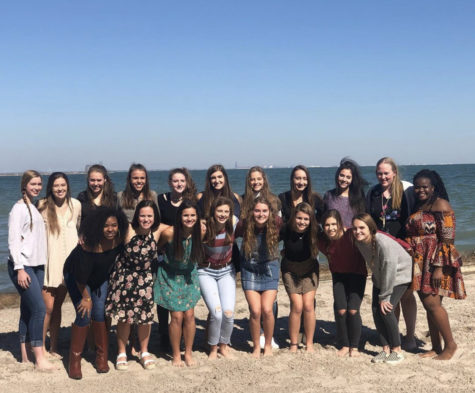 "The trip was really fun," Pehrson said. "I got to really connect with different players on the team that I never really get to talk to you or get the opportunity to talk to. In the hotel room I got to be with two other players that I don't really talk to as much and so getting to connect with more players on the trip was great."