Ready, set, run
Cross-country teams do outstandingly at district meet
The invigorating and brisk air flurries around the destined champion, only fueling their energy. 'Keep going', 'you got this', words spoken and thought, all yearning the same outcome. 
Last Thursday morning, cross-country traveled to Old Settlers Park, a city park in Round Rock, for the district meet. The team got No. 1 for both varsity and junior varsity girls and boys.
"I think it went really well," junior Gemma Goddard said. "I wasn't expecting to feel that good, I actually haven't felt that way in a while. The weather was really nice compared to the hot weather we've been running recently."
Goddard and senior Anthony Monte got first place in varsity and freshman Alex Rayson and sophomore Sophia Peterson got first in junior varsity. This was Rayson's first race ever running on junior varsity.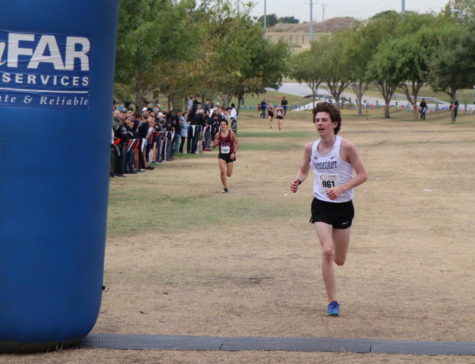 "
I didn't really know what to expect at first, but [it turned out to be] more fun and competitive."
— Alex Rayson
Many of the boys in varsity have run the course at Old Settlers Park upwards about nine times. Monte said that this meet was pretty similar to what he's used to, but this time, many runners including Monte and Goddard had ran faster than ever.
"[This win] is a morale booster to me for the rest of the season," Monte said. "It shows me that I have a chance of taking a state title for cross-country. It also means a lot for the team too, this is the first time we might even take a boys team to state."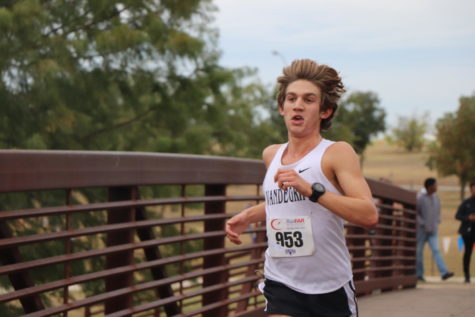 Goddard said the day before the meet, her knee was having troubles so she had to sit out of practice. The day of the race, her knee was still giving her pains, which made her anxious and unsure. By some miracle, during the race Goddard's pains went away and her knee was no longer giving her any trouble.
"I think [being on a team] is important for motivation," Goddard said. "Cross-country is a really mentally draining sport and it requires a lot of mental toughness. Your team is always there for you and when you're running and you see your teammates  running with you, it's really encouraging to keep pushing yourself because you know, you're not just running for yourself, you're running for your team."
With exceptional scores from the district meet, Rayson, Goddard, Monte, Peterson and the rest of the cross-country team are expected to push themselves even harder at regionals next week on Monday.