Volleyball selects this year's new captains
This season, the volleyball program hopes to win district once again. This year's captains are seniors Annie Stadthaus, Delaney Dilffer, Jules Mokry and Grace Rinn.
"Our goal for districts is to go undefeated, win districts and advance to playoffs " Stadthaus said.
One of their roles as captains os to motivate and be a support system for the team, specifically being a role model to others. By having multiple captains, the players divide into three influential roles: a floor captain, mediator and the hype men. 
"My specific role as a captain is the floor captain," Dilffer said. "[This] means on the court if there is a weird call, I'm the one that goes up to the ref and talks to them, which is actually pretty difficult for me because I have to watch what I say, and I have to take deep breaths. I've learned from the past two years how to handle that better." 
Rinn is the mediator, making sure everyone on the court is on the same page. Similar to the mediator, the hype men, Stadhaus and Mokry, hold everyone accountable on and off the court. 
"It's really rewarding being chosen as a leader and a captain on the team, knowing that I'm looked up to by my peers and being able to fulfill that role for them is a really incredible feeling," Rinn said. 
On Aug. 30, the team secured the win against past rivals, Lake Travis. They had many complications from the student section such as them chanting and attempting to distract the players.
 "I prefer playing under pressure because its more enjoyable and entertaining and my teammates keep me motivated," Mokry said. "I'm really looking forward to just playing with my teammate sand having fun while also performing well."
On Sept. 17, the team will play against Westwood. They are looking forward to coming back stronger than their previous tournaments where unfortunately they lost with a close score. These girls are very well driven with intensity and motivation  
"Our hashtag for this season is never settle which basically just means that every practice and every game we want to get better so that we can reach our potential," Dilffer said. "We know that we're good enough to win district so that's one of our goals but we want to go beyond that and we want to make it past the second round of playoffs and our overall goal is to make it to the state."
About the Writer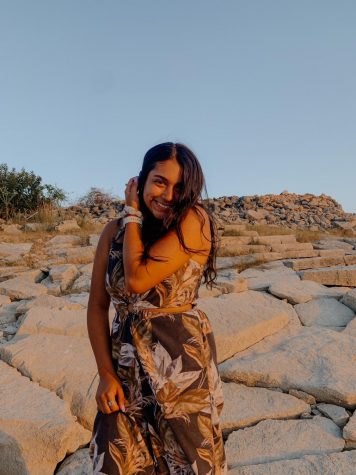 Marah Santiago, Staff Reporter
Marah Santiago is a senior, and this is her second year on the Vandegrift Voice staff. She enjoys spending time with friends and family. Her hobbies are painting and drawing. This year she is looking forward to make new memories.