Boys golf heads to state
After winning regionals in April, the boys golf team will head off to compete in state at Legacy Hills May 20. This is the sixth time the boys team have advanced this far.
"Getting to the state tournament is a goal each year," head golf coach Matt Wernecke said. "We will continue to work and give ourselves the best chance to play well."
To prepare, players, like junior Luke Jasinski, will practice for three to four hours up until the end of May. Jasinski said he will focus on putting all of his time toward practicing.
"I take all my other hobbies and put them aside to focus on golf," Jasinski said. "If you're not really reaching for a goal, you ask 'why am I here right now'? But if you have a goal you have a purpose and then you practice well."
The tournament is two days long and will consist of 18 holes each day. The best four scores are counted and get added toward the team total. The top three teams and the top three athletes receive awards at the end of the weekend.
"I work quite a bit on course management and setting a game-plan for each tournament," Wernecke said. "I usually have a couple of holes picked out where I will be sure and see all of the players come through. I will also pick a player or two and walk multiple holes with them just to help give advice and get them through their round."
Twelve teams will compete and there will be 72 players on the field. The team will ride to and from the course each day and will be paired with two other teams each round.
"At a state tournament you really have to have your best game to win," junior Cole Sherwood said. "Since we didn't make it out of district my freshmen year, it's always made me really focus. You have to earn your spot at a state tournament. Having made it this far, I'm really appreciative, and we are gonna make the most of it."
About the Writer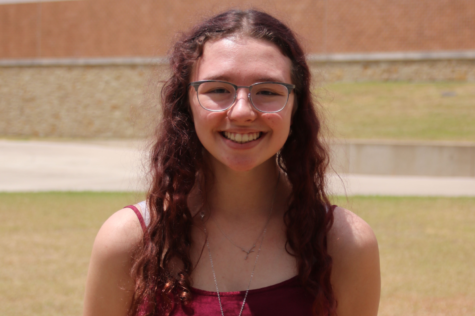 Claire Lawrence, Opinions Editor
Claire Lawrence is a senior and this is her third year on the newspaper staff. She wants to study journalism in college and eventually become the editor of a successful publication. She also enjoys theater and writing music.