Varsity baseball defeats Stony Point 7-2
The varsity baseball team took on Stony Point for  senior night and final regular season game and defeated the Tigers 5-2 last week.
"It felt really good," senior team captain Peyton Klam said. "They're the no. 2 team in our district so it felt good to give it to them a little bit. It was our last game of the season, my last game at Vandegrift and it felt good to end it with a win, to finish it off."
During practice, the team had a two hour scrimmage against themselves to help prepare for the senior night game.
"It was fun; we all competed, had a lot of laughs so it was a good end of year practice," Klam said. "We also hit on the field before the game."
Some strengths of the team was pitching the ball and making the routine plays.
"We threw a lot of strikes and we hit with runners in scoring positions," Klam said. "We did everything we had to do, finally got all three, came together."
Another strength of the team was the energy they had during the game.
"In the games we lose, we have terrible attitudes and we're not happy," senior Tyson Smith. "I felt we had a lot of energy and we're trying to have fun and cheer on everybody."
The win occurred on senior night as it was a special way to end the season with a win.
"Since it was my last game and for the 10 other seniors, it felt really good to go out there," Klam said. "Since it was all seniors starting on senior night, these are the teammates that I grew up playing with so it was awesome to end it right with them."
In the game, Klam contributed to the team by making plays in the centerfield, getting two  walks and having a lot of good at-bats.
"It always feels good to get intentionally walked because you're like they don't want to throw to me so it's a plus and it boosts your confidence," Klam said. "I'll take a free base."
Smith contributed by going 2-4 at the plate, having three RBIs, one run and a double and broke the single season record for doubles.
"It felt good to contribute," Smith said. "Being a new kid, it's hard to do that but it felt good to break a record here."
With the win, the team ends the season on a good note, despite not making it to the playoffs.
"It's really good because for the younger guys, it'll do a lot for them going into next year and for the program as a whole," Smith said. "It wasn't the season we wanted but it'll show that if we put in the energy we had, then the guys can have a pretty good season next year."
About the Writer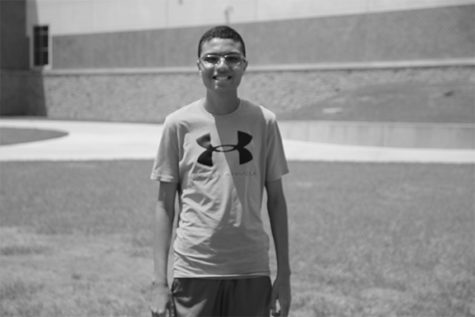 Justin Jalomo, Sports Reporter
Justin Jalomo is a senior and this is his third year on the newspaper staff. He is involved in band and the A/V department at Vandegrift. During his free time he likes to watch TV, play video games and play sports.