Soccer looks to climb district table against Cedar Ridge
Hang on for a minute...we're trying to find some more stories you might like.
Following a 0-0 tie at Stony Point High School, the boys varsity team will travel to Cedar Ridge tonight with a record of 4-2-2. The varsity squad will be looking to close the gap between them and the top of district competition, as the Vipers currently sit two places behind Cedar Ridge who are currently in second.
With a few wins now under the team's belt, the Vipers will not just be fighting for a win tonight, but they will also playing to maintain their winning mentality.
"I just think we need to stay modest," sophomore midfielder Charlie Fournier said. "We just have to keep working and improving on what we've been doing, and that way we'll keep playing well as a team. This season the best thing we've done as a team is that we've stuck together, whether or not we're winning or losing. We work through everything together as a team."
The team's winning record came as a relief to some of the varsity players, as at this time last year the varsity team was not experiencing the same degree of success. The 2018 season resulted in the Vipers finishing outside of the playoff berth, however the players have been confident that they have the ability to finish higher in district competition.
"I think from last season to this season we've come together as a team," senior defender Grant Shaffer said. "[Togetherness] has helped us to get results out on the field for sure, we've built that chemistry. We play to each other's advantages, so we know what foot to play to, who is fast with the ball, who's slow, things like that."
Some of the players have also been able to benefit from the turnout of students at recent home games. Several students were vocal against Leander High School last Friday despite the adverse weather.
"I was definitely surprised by the amount of support," senior goalkeeper Seena Sadat said. "It was great seeing them, Especially since it was hailing and raining midway through the game."
Although the team appears to have found their rhythm at this point in the season, Shaffer knows there is still more that the team can improve on in order to reach an ideal level of play.
"For us we could probably still work on consistency," Shaffer said. "When we play at our very best we can beat everybody, but often times we'll play down to our opponents. Once we find our consistency, I think we'll get the results we want."
The squad wants to play consistently well against Cedar Ridge tonight, as they have also performed well up until this point in the season. Cedar Ridge are currently positioned second behind Westwood High School in district competition.
"That game is definitely a must win," Fournier said. "We need to play well if we would like to secure a top seed going into the playoffs, so there is a little more pressure."
About the Writer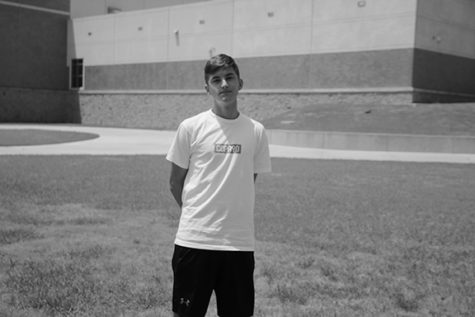 Miguel Blanco, Staff Reporter
Miguel is a senior and this is his first year on the Vandegrift Voice staff. He enjoys learning about history, spending time with his friends and loves anything about soccer.