Varsity soccer travels to Hendrickson for first away game
Substantial rain beat down on Monroe Memorial Stadium as the varsity boys soccer team suffered a tough loss on Tuesday night to Cedar Ridge High School. Starting off district competition with a loss is not what the Vipers were hoping for, however, many players remain optimistic about their upcoming game against Hendrickson High School today.
"It doesn't really matter because we're going to go 15 and 1 now," senior striker Nico Gabbi said. "We have 15 games left and we're going to win them all, so losing the first game and losing the last game has the same significance."
While it appears the confidence of the players was not hindered by the loss, the team will be hoping to improve with a new change in tactics and formation.
"I think our new formation change is going to be important," Gabbi said. "I think there is going to be a lot more people playing, so the whole team is going to be much more involved. Also, less people will be tired so our play won't be as sluggish. We're hoping to recover with a win Friday."
Now that the season is underway the team will also benefit from having a better understanding of their own strengths and weaknesses going into today's game.
"We've heard that they are very good opponents," sophomore center back Sammy Sutorus said. "We heard that they have a strong back line so we're going to work on our goal scoring, so far we have scored 11 goals in 10 games so we really need to pick that up. So far I would say that our ability to connect passes and keep possession has been the strongest part of our play."
The team will also be hoping to utilize the experience gained from multiple pre-season games against tough competition to secure a win. Notably, the squad was able to gain crucial experience defending against Sam Houston High School's Jose Ortiz, who was named Texas Gatorade player of the year for the 2016-2017 season.
"A player like Jose Ortiz brings something that other teams don't have," Sutorus said. "When we got to play him I feel like he brought everyone's level up, and even though we didn't win, the score didn't reflect how we played and how the game went. I felt like it was very controlled from our perspective."
Head coach Cody Brown made a point to play high-tier competition during pre-season, and although the team went into district competition with a flawed record, the players appear to appreciate the intensity of their competition.
"It was beneficial for us to play these teams because it helped us show our weaknesses that we needed to improve on," senior midfielder Cole McCue said. "It showed us what we needed to work on midfield-wise, because that's where we have been lacking, and we actually changed formations due to these past few games. It also gave us a bit of a boost of confidence since we did play really well in the game against Sam Houston as well as the other game against Tompkins."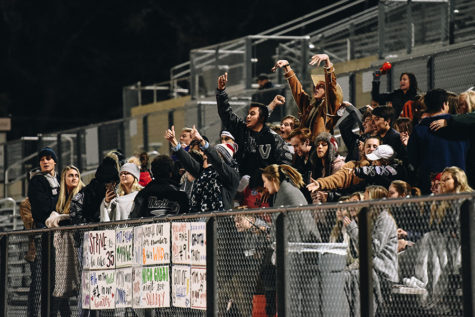 While there were multiple factors that resulted in the loss to Cedar Ridge, the consensus of several players seems to be positive. The players look to mark today's game as their first win of many.
"We have to go out strong for the rest of the season," McCue said. "Like I said we just changed our formation. I'm excited. We're going to go into the next game with a new mindset, and we should win."