Boys Varsity Basketball lose to Hendrickson 51-37
With district play already happening, the Vipers started their second game district game of the season against Hendrickson in which they lost, 51-37.
"We're pretty disappointed since we stayed with Hendrickson for 3 quarters then blew the game because of ourselves," senior Reese Watson. 
Prior to the game, the team spent practice learning a new play that helped them during the game and working on their offensive chemistry. 
"We tried to be more active with more movement, and I felt that helped us prepare for the game," senior Zach Chmura said. 
A strength of the team during the game was not only their defense, but their transition offense.
"I believe that's where most of our points come from," Chmura said. 
A weakness of the team is sharing the basketball with one another, which is also something they can improve on.
"We aren't the best at it and it's something we need to work on," junior Gabe Rayer said.
Rayer contributed to the team by playing strong on the defensive side of the court.
"I'm proud of that and I can score when we need it," Rayer said.
Watson contributed to the team by having great stats and steals.
"It felt great to contribute but I know I can contribute a lot more," Watson said.
Chmura contributed by bringing energy to the team, which is something they need.
"It felt good to contribute with that because we play much better when we play with energy," Chmura said.
This game will prepare the team well for their next game against Vista Ridge as they know what they need to work on.
"We just have to play hard and not turn the ball over," Chmura said. "If we can do that, we should be fine."
Going forward in the season, the team will continue to play without their best player, junior Greg Brown, as he is still recovering from an injury earlier in the season against Austin Lanier.
"Losing Greg right now hurts our team, but to win without him, we need to keep the same winning attitude and play together as a team," Chmura said. "One person can't make up for Greg's production but if we play and work together as a team, we should be fine."
The game against Vista Ridge is on Tuesday at home at 7:00 p.m..
About the Writer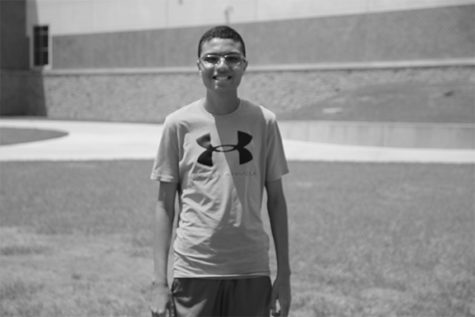 Justin Jalomo, Sports Reporter
Justin Jalomo is a senior and this is his third year on the newspaper staff. He is involved in band and the A/V department at Vandegrift. During his free time he likes to watch TV, play video games and play sports.