Vipers enter playoffs with perfect record after win over Stony Point
The Vipers secured the school's first perfect 10-0 season last night with a 28-7 win over Stony Point and earning the district 13-6A championship trophy.
"It's a great feeling," Junior and rover Tyler Mongauzy said. "I've grown much closer to everyone on the team this year and 10-0 just brings those relationships even closer. I'm ecstatic to share this accomplishment with this group and I cannot wait to see what the future weeks hold for us."
With the team's perfect record at stake entering the Stony Point match, free safety and team captain Drew Nelson said the team watching a lot of film and had a good game plan for Tigers. They entered the gaming feeling confident what plays Stony Point was going to run.
"Game plan defensively was to stop the run early and make them throw the ball and if anything drive it down the field because they are a big play offense," Nelson said.
Next week the Vipers host Tomball Memorial at home in Monroe Stadium in the first round of playoffs. The Wildcats enter the game with an 8-2 record.
"We will do nothing different just keep staying focused and practice hard every day," Drew Nelson, free safety and captain, said. "We will be ready for them at our house on Friday."
Junior and wide receiver Trey Mongauzy added that the perfect season is the best feeling in the world and a 10-0 season had been a goal since last year moving into a new district this year.
"For us to finally fulfill that goal was very special, and gives us a lot of energy moving forward," Trey said. "We know that one loss will kick us out, so it will be a very hard working week, with lots of studying and fast paced practices."
About the Writer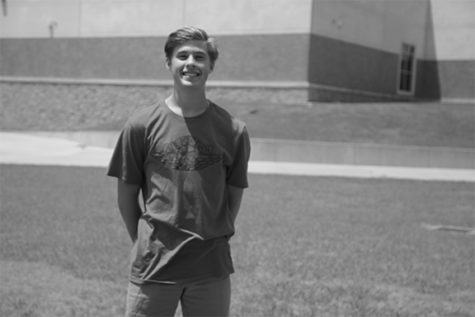 Peyton Klam, Staff Reporter
Peyton Klam is a senior and this is his third year as a staff reporter. He enjoys reading and binge watching tv shows. He also plays baseball for Vandegrift.