Girls Varsity Soccer lost to SA Clark 3-1
In the second round of the playoffs, the girls played a tough team but came up short as they lost to San Antonio Clark 3-1.
"It's very disappointing," junior Macy Burch said. "It's not as disappointing as it was for the seniors because I'm a junior, I still have another year. It was really difficult to see the girls upset and beaten down when we were the better team, and we played with our hearts out so it was very disappointing."
The team is all about team bonding and team togetherness so during practice, they practiced drills where the team was together.
"Whether it's scrimmaging or shooting drills, we try to keep everyone together so we all connect," Burch said.
One strength of the team during the game was their communication on the field.
"We were talking a lot and we all wanted to win so bad but it didn't work out," sophomore Carlyn Presley said.
One weakness was people shutting down once the girls got scored on the second time.
"We were able to get back up and score a goal but definitely getting scored on," Burch said.
One thing the team could improve on was keeping the ball on the ground rather than in the air.
"Other than that, we played extremely well but we didn't come away with a win," head coach Jen Hardy said.
Burch was injured so she didn't get to play, but she contributed by cheering, giving constructive criticism to her teammates and letting them know they did a good job when they came off the field.
"It felt good to contribute," Burch said. "It felt like I was really helping my teammates."
Presley contributed by keeping the energy up and doing her best to keep the team going forward in their opportunities and not letting the goals bring the team down and also telling the team to keep going.
"It feels good," Presley said. "You're part of a community that's bigger than yourself; you have the fans, the coaches and your teammates and it feels like a big family and being able to be a part of that and to be able to contribute is really special."
Sophomore OIivia Tabash contributed by coming in and almost scoring a goal.
"It changed the momentum and it sped up the game a little bit more," Tabash said.
Losing early in the playoffs was disappointing to the team, and the girls have a big reputation in girls soccer.
"Losing early on, we had so much aspired to and not being able to fulfill on that really hurts," Presley said. "It's hard to accept that our season's over."
Although the girls were the better team that game, Clark watched how the girls played and knew how they played better than how the girls knew how Clark played.
"They were able to counter attack and they got the ball in the back of the net even though we had a lot more opportunities than they did," Presley said.
The girls finished the season with a record of 12-5-4.
About the Writer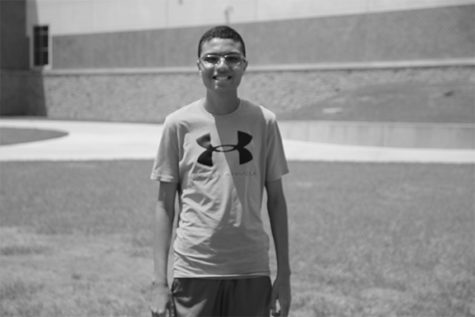 Justin Jalomo, Sports Reporter
Justin Jalomo is a senior and this is his third year on the newspaper staff. He is involved in band and the A/V department at Vandegrift. During his free time he likes to watch TV, play video games and play sports.