Boys Varsity Baseball defeat Hyde Park 10-5
On Apr. 7, the boys varsity baseball team played Hyde Park in a non-district match and defeated the Panthers 10-5 before playing their series against Hays.
"It feels good," senior Cole Nauert said. "It was good for the team to gain confidence after Vista Ridge, and it was a good team to prepare us for Hays."
During practice, the team did a lot of scrimmages and practiced game situations.
"The pitchers will be throwing outside so we're working on opposite hitting to the opposite side and hitting, hitting, hitting," Nauert said.
Some strengths of the team during the game was how well they played offensively and defensively.
"We were making every play; we didn't have many errors or walks, which is something we try to strive for in games," junior Coleman Gamble said.
A weakness of the team was falling apart during the fifth and sixth innings.
"They put up those runs during those innings but we were able to hold them and come back," Gamble said.
One thing the team can improve on is limiting the walks during games.
"That's one of our big problems because once we start walking people, we start to fall apart but we were able to come back," Gamble said.
In the game, Nauert was the DH (designated hitter) and contributed by hitting two singles and walking once to advance runners.
"It was awesome to contribute," Nauert said. "It was fun to get a play in and help out with the team."
Gamble sat this game but contributed to the team by motivating his teammates and doing whatever he could to help his team out.
"It feels great to contribute," Gamble said. "I love being there with the team; it's like a nice brotherhood."
Senior Chad Herrera contributed to the team by doing his job and doing what he had to do in order to make the team succeed.
"It felt good to contribute," Herrera said. "It felt good to contribute to a team win but it's about the team putting up the win in the end."
The team needs to be prepared for Hays because the series against them is critical as they attempt to get a spot in the playoffs.
"It's a big step," Herrera said. "Knowing that we got a victory, our confidence went up and Vista beat Hays in their series and it gets our confidence up as well."
The team will face Lake Travis in Game 1 tonight at Lake Travis at 7:30 p.m. The team is well on their way to getting a spot in the playoffs as they defeated Hays 2-1 in Game 1 and in Game 2, 15-5, but lost to them in Game 3, 12-2.
About the Writer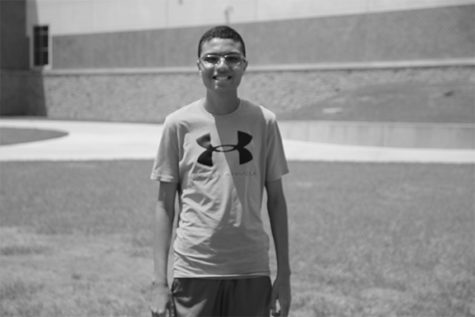 Justin Jalomo, Sports Reporter
Justin Jalomo is a senior and this is his third year on the newspaper staff. He is involved in band and the A/V department at Vandegrift. During his free time he likes to watch TV, play video games and play sports.