Volleyball defeats Madison 3-0 to advance in playoffs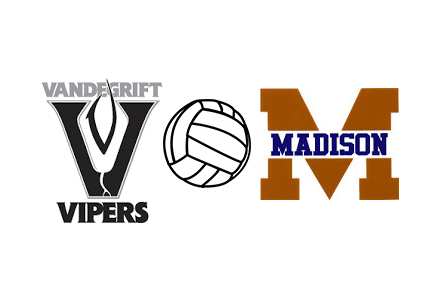 The Viper volleyball team defeated San Antonio Madison 3-0 to advance to the second round of the playoffs. The win gives the Vipers the bi-district championship.
"It feels great," head coach Melissa Southall said. "We had some minor setbacks in the sense that one of our starters was really sick and she battled through. We had an outstanding performance by our senior captain Ryan Palmieri and by sophomore Annie Stadthaus. We were moving the ball around from multiple hitters and they couldn't stop Annie which was helpful on offense so it was a great win for the girls."
In the practices leading up to the game, they worked on focusing on things that Madison did.
"We knew no. 8 was their primary hitter so we really focused on trying to identify her on the court and see where she is," sophomore Brynne Wright said. "We also focused on individual players."
In the game, some strengths were their offense and transition.
"We were able to get great digs and still run a quick offense that really challenged Madison and their defense and being ready for that quickness," Southall said.
A weakness was one of their star players being sick on the day of the game.
"Senior Simone Priebe was feeling sick and she had been for the past couple of days so that was a setback since she was one of our primary hitters," Wright said. "She was able to pull through and play really well."
In the game, Wright contributed by calling balls in and out and cheering the team on to help the girls stay in the game.
"It's really exciting especially since this is my first season to be in playoffs," Wright said. "It's super exciting to cheer with the team and feel like you're a part of it."
Senior Ryan Palmieri contributed by being loud and vocal.
"It's always exciting especially since it's my senior year," Palmieri said. "Every playoff game, you don't know when your last time is so whatever you can do to contribute always feels good."
Junior Maddie Beck contributed by giving the team motivational cheers.
"Watching the team, having a fun time, me being able to see them do what they do best and being able to cheer them on is a great experience," Beck said.
Before the game, Southall told the team to play their hardest.
"She knew that if we played our best, she knew that we could beat them," Beck said. "We played to our best potential and we came out on top."
After the game, Southall told the team how proud she was of the team.
"She was proud of us, especially with Simone stepping up even though she didn't feel good," Wright said. "We have to put this game in the past even though it was exciting and we have to get ready for Clark."
The Vipers now prepare for the second round of the playoffs against San Antonio Clark.
"This game was great for us because since we had such a great passing game and hopefully, it carry on to the game against Clark," Beck said. "We played Clark earlier in the season and we didn't have such a great passing game so hopefully this will help us with Clark."