Vandegrift Football vs Leander Preview
The Vipers look to get their second district win of the season as they take on Leander tonight. Vandegrift enters tonight's game with a 1-1 district record while Leander is currently 0-1 in district.
"We're practicing hard, trusting our coaches and listening to our coaches," senior quarterback Justin Moore said. "Also, keeping a positive attitude like we've have been. We know we're going to get the W, so we're excited to show the world what we've got."
As a quarterback, Moore is making sure he's practicing hard and not skipping any reps to make sure he's ready for Leander.
"Like I said, keeping a positive attitude and knowing that we're going to go get the job done on Friday," Moore said.
Wide receiver senior Justin Florence said he is making sure he knows his plays.
"We installed a couple of new plays and make sure I know them and know what I'm supposed to do and where I'm supposed to line up," Florence said. "For our quarterback, Justin Moore, he's been doing a good job of keeping his receivers composed and make sure we're ready for this Friday."
As a defensive lineman, senior Jayelen Gray is preparing for Leander by working on his basic techniques.
"If you do basic stuff, it works every now and then," Gray said. "It's always nice to go over basic things and not go through the motions."
Last Friday, the Vipers took on Lehman and came out victorious 62-7.
"It was awesome, especially for Homecoming," Gray said. "We always want to win on Homecoming and to see our quarterback Justin Moore be Homecoming king, it was one of the coolest moments ever."
The win against Lehman was the first district win of the season.
"It felt great," Florence said. "It was definitely a great confidence booster to win 62-7. For us, offensively, knowing that we can put up 62 points against a defense is a very big confidence booster and hopefully, it carries us forward throughout the rest of the district games."
In the game, Florence contributed with two touchdowns.
"Coaches pulled me out with 8 minutes to go in the second quarter and I had two catches and those two catches were touchdowns," Florence said. "It felt great."
Florence was also happy to see the backups and third string players play in the game and contribute to the win.
"It was good to see our backups and third strings get in the game," Florence said. "I know Kartik Akkihal was very excited to get his first touchdown of the season as well as Troy Greenamyre, our third string quarterback. I was really happy to see those kids contribute to the win."
About the Writer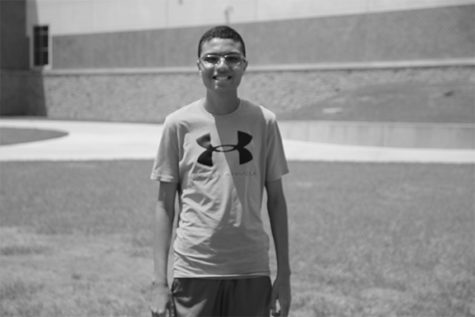 Justin Jalomo, Sports Reporter
Justin Jalomo is a senior and this is his third year on the newspaper staff. He is involved in band and the A/V department at Vandegrift. During his free time he likes to watch TV, play video games and play sports.