Varsity Football Team loses to Permian 28-24
The Vipers kept the game close but lost the lead at the last minute as they fell short to Permian 28-24 on September 1.
"Any loss is disappointing as an athlete and as a competitor," senior wide receiver Peyton Ausley said. "It's the first game of the season and sometimes, you gotta step back a little bit and look at the good things that happened and there were a lot of great things that happened during that game. Odessa Permian is a quality football team and we hung in there and we had them till the very end and I'm proud of our guys. We've got to fix our little mistakes like penalties but besides that, we played very solid and we're going to be a great football team."
Although they lost, they kept the game close and the team played well against the Panthers.
"In the best situations, you have to look at what happened during the game and the good things," Ausley said. "if you can focus on the good things and keep those good things rolling and keep adding more good things, then that's when good teams become great teams and you start winning championships so we're very excited about the season."
Before the game, the team prepared a lot in order to be ready for Permian, especially their hard offense. They run a Triple Option, which is confusing and hard to prepare for.
"There is a lot of misdirection but I think we did the best we could," Ausley said. "They're a great football team; they won it fair and square but we'll come back and get them."
Throughout the game, their passing didn't do so well. The ball wasn't spread as well as the team could've.
"Players didn't make plays that we should've, the quarterback didn't make reads that he probably should've, receivers dropped balls that we should've caught, coaches didn't make the best calls in some situations," Ausley said. "It's everyone's fault and that's what happens you lose a game."
Although their first game was a loss, the Vipers had some strengths with their passing, especially with the way they threw the ball.
"We saw where we could beat someone and go make plays and we attacked them until they had to pull them out of the game or switch it up," Ausley said. "We had good schemes that we did and we're proud with it and we're going to keep rolling."
Along with their strengths, they had some weaknesses. Their biggest weakness was the lack of spreading the ball.
"We have smart coaches, great coaches and they know more about the game than I do," Ausley said. "We did the best we could and I'm proud of what we did."
The team's biggest improvement for the passing game is finishing plays, especially finishing plays that could've resulted in touchdowns.
"We let them come back in the game and we had the lead," Ausley said. "We should've scored a touchdown instead but we got a field goal and those little things that can change the game, which it did in our first game."
Ausley contributed to the team with the plays, catches and keeping the players composed.
"If you keep a level head, then we'll do a lot of great things," Ausley said.
Ausley scored a touchdown and threw a touchdown pass to put points on the board.
"I caught a deep ball to open the second half and it was a great feeling because we needed it since we were down by a touchdown so that tied the game. Our defense got a fumble recovery on the next series and we came back. I threw a touchdown on a trick play which was a great feeling to put us up by seven."
After the game, Coach Drew Sanders talked about what happened in the game.
"He talked about how there were great things that happened and there were some bad things that happened," Ausley said. "Unfortunately, those bad things hurt us to give us the loss but he looks at both sides of the game. We're going to come out, we're going to fix some things and we'll be alright."
The game against Cedar Park will be another tough game for the Vipers but Ausley said the team is ready.
"Our last game was a lot tougher mentally, through the ups and downs and with the crowd going crazy for us and Permian's crowd going crazy for them and that's what Friday's game will be like," Ausley said.
The Friday before their first regular season game against Permian, the team played a scrimmage against Pflugerville and came out victorious. Throughout the scrimmage, the run game did well.
"The offensive line struggled a little bit but they started to open up once they saw that our line can hang with anybody if we put their mind to it," junior running back Isaiah Smallwood said.
With the run game, there were some things that were done well..
"We had some strengths of getting to the outside," Smallwood said. "It made us more two-dimensional that if we can get to the outside, then our middle game will be perfect."
Although the team was victorious, the biggest weakness is blocking.
"That's what we're trying to get better at as a team because we had negative yards last year," Smallwood said. "That's what we're trying to improve."
Smallwood said that the run game is stronger last year but it's a work and progress.
"It was only the first game that we played, and it's going to get better," Smallwood said. "If I had to compare it to how it was last year, then it would be way better."
In the scrimmage, the passing game did well. They scored a touchdown by moving the ball 70 yards downfield on their first possession.
"In the first half, we scored 17 points, but in the second half, we started to slow down a little bit and it got harder to move the ball," Florence said. "Their defense transitioned a little better. For the scrimmage, I think our offense was a lot better than last year and we're able to move the ball a lot more."
The passing game had some strengths of running crisp routes.
"We have a lot better receiver coaches to help us out and Justin Moore is putting the ball on us so we're able to make the plays," Florence said.
The biggest weakness for the passing game is blocking.
"We've gotten a lot better throughout the fall and spring and just work on blocking for our running backs to get outside," Florence said.
Florence said that from last year to this year, the passing game has gotten a lot better.
"We were able to move the ball downfield a lot further than last year and I think Justin Moore has a lot of trust in his receivers to make the plays and score touchdowns," Florence said. "Last year, I don't think Alex Fernandes trusted us as much as Justin Moore trusts us this year so he knows that we're able to make the plays to be successful."
In the defense, they did really good by having everyone play their part.
"We listened to our coaches and we did the right things at the right time and we just stopped them every play," senior defensive lineman Jayelen Gray said.
The biggest weaknesses are the inexperienced guys.
"We got a few guys that aren't experienced yet but that will change throughout the season," Gray said. "After that, we'll be fine."
From last year to this year, the defense has changed.
"Last year, the seniors really cared about our defense being number 1. This year, we do also, but we're more connected this year than last year."
For Odessa, the defense ended up doing well.
"The coaches prepared us really well," Gray said. "Unfortunately, we came up a little bit short but I think the defense did real good against Odessa."
About the Writer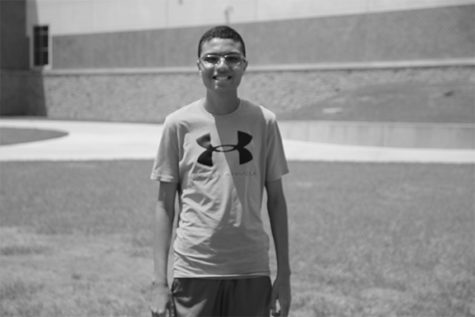 Justin Jalomo, Sports Reporter
Justin Jalomo is a senior and this is his third year on the newspaper staff. He is involved in band and the A/V department at Vandegrift. During his free time he likes to watch TV, play video games and play sports.