Boys Lacrosse defeat Round Rock 12-5
On senior night, the boys lacrosse team defeated Round Rock 12-5, clinching a spot in the playoffs.
"It felt pretty good because we really needed to win," sophomore Spencer Cain said. "It was senior night so it was a big deal that we won."
The team practiced a lot in order to be ready for Round Rock.
"We practiced our man down and man up plays," Cain said. "We watched film of the previous game."
Although the Vipers won, Round Rock played well in certain aspects of the game.
"They had a couple of good plays," sophomore Justin Ahrens said. "They were able to put together a lot of rushes. They would rush across the field really fast and put some in but other than that, we really played well."
Throughout the game, the Vipers outperformed the Dragons for the most part.
"We got a lot more ground balls and we throw and catch a lot better," Ahrens said. "Overall, we just talked way better, so that helped everyone out on the field know what was going on."
The Vipers came out on top but they still have some improvements to fix for the next game.
"We can definitely have less penalties," Cain said. "We can also get back on defense faster when we lose possession."
Cain contributed to the team in any way he could in order for the team to score.
"I helped by winning faceoffs and clearing the ball to the offense on defense," Cain said.
Sophomore Quinten Barborak didn't play much, but he contributed he could whether on the sidelines or on the field.
"I was on the sideline most of the game," Barborak said. "I helped encourage them when they would score on us."
After the game, coach was proud of the team for playing well against Round Rock.
"He was proud and excited that we got all the way especially on senior night and we were able to make it to the playoffs," Ahrens said. "He was expressing gratitude and telling us to get back to work."
The Vipers will then prepare for their final game against Anderson.
"Anderson is a lot like Round Rock in the fact that they have a really good midfield line, but less on the defense," Ahrens said. "It gave us a show of how Anderson is going to play us and how to counter their moves."
With the win over Round Rock, the Vipers have secured a spot in the playoffs.
"I'm so excited because we have a chance to make it as far as last year's team did and last year's team was really good," Ahrens said.
About the Writer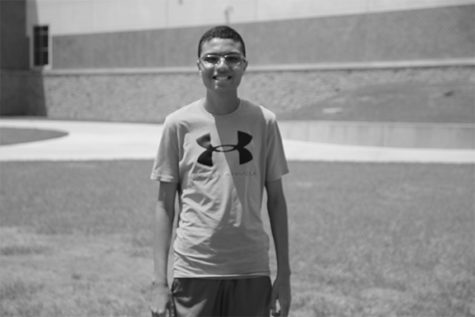 Justin Jalomo, Sports Reporter
Justin Jalomo is a senior and this is his third year on the newspaper staff. He is involved in band and the A/V department at Vandegrift. During his free time he likes to watch TV, play video games and play sports.