Girls Lacrosse lose to St. Stephen's 16-12
On March 30, the girls lacrosse team made a comeback in the second half but they came up short against St. Stephen's 16-12.
"It's annoying because we got so close to winning," senior Yara Bates said. "In the first half, we weren't playing our best but in the second half, we came out strong, but it wasn't enough for us to win."
St. Stephen's is a great team and the girls had to practice in order to be ready for them.
"We definitely amped up practice," sophomore Mindy Barnett said. "We got a lot more concentrated and focused on everything. We worked a lot harder with each other, helping each other progress more and we started giving each other constructive criticism."
Throughout the game, St. Stephen's did certain things better than the girls.
"They made smarter passes," Bates said. "Some of our players were rushed and nervous, so we didn't make great passes. They were fast and if our defenders stopped them while they were trying to score, they would run back and reattack, so that was a smart play."
Although they were outperformed, the Vipers did some things really well.
"We were able to protect the ball more and we were able to get the ground balls," sophomore Sierra Yoder said. "There were a few times where we were right up in their face with good defense and they just dropped the ball and we got it."
From this game, the girls have some things they can improve on so they can do better in future games.
"I think if we took our time when we were going to shoot for the goal and spread out wide," Yoder said. "We were just so rushed and then we would lose the ball."
After the game, their coach had a talk with them about the game and how they played.
"Coach had told us about how we did very well and we should be happy with that, but we shouldn't be because we lost," Barnett said. "At the same time, we did play well and we did play an upper level team that we haven't done so well against in the past, and it was expected to be a tough game.
Throughout the game, Yoder contributed to the team in any way she could in order to help the team score.
"I contributed by always being there and always being an option for my team," Yoder said. "I always got the ground balls and I was always there and that was important."
For Yoder, this was one of her best games she's played this season.
"This was one of my best games because I played a little bit of everything," Yoder said. "I did my part in midfield, I got the ball off the draw and I went and scored and I played defense and I got the ground balls and that was really good."
As the goalie for the team, this game was one of Barnett's best games.
"Personally as a goalie, it was one of my best games because I saved around 60% of the shots," Barnett said. "For a high school goalie, it's typically considered around 10% to 20% that we are supposed to save so out of 40 shots, I saved around 20 and that was very good."
For Barnett to save 60% of the shots, she said it felt great.
"Our team spirit has been down a little bit lately because of all the injuries and car wrecks and as a goalie and to make the game be that close, it felt great," Barnett said. "For this game being one of my best games, it gave me a better push to do well at all the camps I'll be doing and for next year for the future team."
Their next game is against Houston, which is another great team, and the girls must prepare and be ready for them.
"We're going into it very confident because when we play higher level teams, we go into the next game at a much more mature and prepared mindset," Barnett said. "Lacrosse is all about mindset and if you go in thinking you're going to lose, then you will."
About the Writer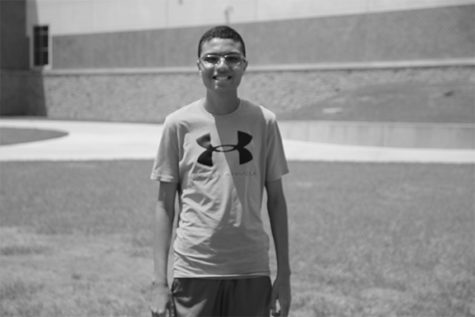 Justin Jalomo, Sports Reporter
Justin Jalomo is a senior and this is his third year on the newspaper staff. He is involved in band and the A/V department at Vandegrift. During his free time he likes to watch TV, play video games and play sports.