Black and Silver swim meet kicks off new swim season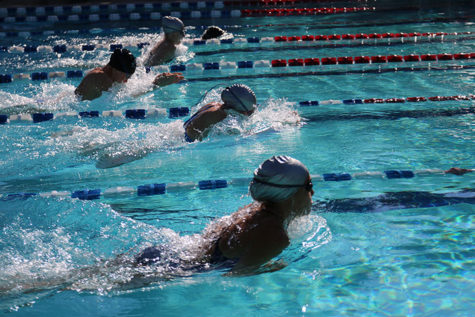 The Vandegrift Viper Swim team kicked off their new season on Saturday with a friendly swim meet at Bella Mar, where they competed against each other in a variety of races.
"This team has so much talent, you know, and I think that's the biggest thing," swim coach Genevieve Walsh said. "We have 44 people on the team and they're all really talented. We also have a lot of fast freshmen this year, so that's just going to make us stronger and faster."
The new swim team divided into their black and silver teams and raced in many events which included the 50 freestyle, 100 individual medley, 100 medley relay, and just for fun, a dolphin dive relay.
"Swimming is an individual sport, but with the Vandegrift swim team we make it a team sport," junior swim captain Lexi Livingston said. "It's much more fun that way."
Coach Walsh is new to the team this year and was helping coordinate the meet on Saturday.
"I love my new coach," freshman Dani Lelinski said. "I never really got to know Coach Davies, so I can't really compare them, but I think Coach Walsh is going to be a really good coach for our team."
Coach Walsh has previously worked with USA swimming and served as head swim coach at Lehman High School and Saint Andrews. As a high school senior, Coach Walsh became the youngest person to swim from the Hawaiian islands of Maui to Moloki.
"My vision is for us to be a unified team that swims super fast and has fun," Coach Walsh said.
With Vandegrift advancing to 6A this year, the swim team will have some new competition against bigger and better schools, but Walsh says she thinks the team has great potential.
"We're moving up to 6A, which is a big step, but we've already been competing against Westlake and Lake Travis in some of our seasonal meets in the past, so we're going to be ready to go this year against them too," Coach Walsh said.
The newly elected captains also have goals for the team and their new leadership roles.
"With my leadership role I plan to try to keep the team more together and improve as we progress to 6A, considering we were 5A last year," senior swim captain Simon Feroce said.
The captains' responsibilities involve planning events such as swim meets and parties as well as encouraging their teammates and helping them to improve.
"With my leadership role I want to try to grow us more as a team and create more of a family environment," senior swim captain Tucker Mathis said.
Overall, the new captains and coach think that the swim team will have a great season this year.
"One of our strong points is definitely teamwork," senior captain Chloe Stringer said. "We work really well together. One of our weak points is probably moving to 6A. It's always rough going into a new division, but I think we'll have a good season. I'm really happy about it."