Boys soccer team secures spot in playoffs
The boys soccer team has secured a spot in the playoffs. They are currently 9-1 in district play with a nine match winning streak. The team went from losing their first game against KIPPC 0-5 to winning against teams like Cedar Park and Vista Ridge. Their next district match against Dripping Springs is at home on Friday starting at 7:15 p.m.
"This year's success has been different than previous years due to the pure desire to go above and beyond," boys soccer coach Chad Aldrich said. "The first game woke us up and we have elevated our game since then."
The boys team has secured playoffs the last five years, however this year they did so with four matches left in the season. The other seven teams in the district are still competing for a playoff spot at this point, while the VHS team is instead focused on their positioning in the district.
"Our mental training has been the same, but how we train in creativity play has [changed]," Aldrich said. "The particular training and the men's efforts in succeeding in training has taken our team to new levels."
The team typically practices three times a week whenever they can and have been taking ice baths to prepare for Friday. Since the team is now preparing for the playoffs, they have a shot at competing and winning at the state level. If they will against Dripping Springs tomorrow they will be the district champions.
"I've been playing soccer my whole life and wanted to play with my friends at school," senior soccer player Curran Kelly said. "It is really cool that we secured a spot in the playoffs with four games left in the season, since we usually get down to the last game."
About the Writer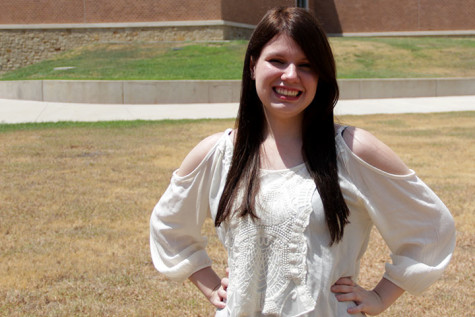 Alaina Galasso, Editor in Chief
Alaina Galasso is a senior at Vandegrift and this is her third year on the newspaper staff. She competes in journalism for Academic UIL and was previously sixth in district for Feature Writing, fourth in district for News Writing, first in district and region for Editorial Writing and second in state for Editorial Writing. She also works as a professional theatre technician outside of school and is an active member of the school's theatre department. She is currently the department's head stage manager but has participated in lighting, run crew and sound since she was a freshman. For her work in theatre she is a 9 star International Thespian and current secretary of Thespian Troupe 7613. She has also been involved in Student Council, the HCEF Inventeam, National Honor Society, Vision Dance Company, AVID and Latin Club throughout high school. She hopes to attend a top university up north and plans on majoring in Theatre Design, Production, and Management with a minor in Creative Writing.