Clemson and Alabama face off for the National Championship title tonight
The University of Alabama and Clemson University will play for the National Championship tonight, the most highly anticipated college football game in the country.
They are the two best teams in the country, with Clemson being ranked number one with a record of 13-0. The Tigers played Oklahoma in the Orange Bowl and clinched their spot with 37-17 win over the Sooners. This is the first time that Clemson has ever played for the National Championship.
Alabama is ranked number two with a current record of 12-1. The only game that they lost this season was to the Ole Miss Rebels back in October. The Tide played Michigan State in the Cotton Bowl and defeated the Spartans 38-0. This is Alabama's 15th time going for the National Championship, they have won 12 out of the 15 bowl games. Alabama has the most National Championship titles out of any other team in history. The last time that Alabama played for the National Championship title was back in 2013, when they played Notre Dame and defeated the Fighting Irish 42-14.
Alabama's running back Derrick Henry and Clemson's quarterback Deshaun Watson were both finalist for the Heisman trophy, the highest award given in college football. The Heisman is awarded to the most outstanding player in college football whose performance best exhibits the pursuit of excellence with integrity. Henry won the trophy for this year and was the nation's leader in rushing yards and touchdowns.
Clemson may be number one in the college rankings, but the experts at CBS sports predict Alabama to take home the title for the 13th time. The reason? Alabama just has more experience and they know what they are doing. This is fifth time head coach Nick Saban has taken his team to the National Championship, once for LSU back in 2004 and three times for Alabama, Saban has never lost.
My overall prediction for the game, Alabama is going to win. The SEC is the most competitive sports division in the country and the ACC does not even compare. Clemson just don't have the experience the coaches or the players, Alabama has the best offense in the country. Sorry Deshaun, you may be a great quarterback, but you did lose the Heisman and to who? Alabama's Derrick Henry.
About the Writer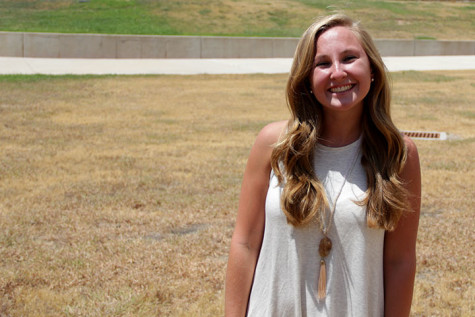 Kate Murphy, Newspaper President
Kate Murphy is a senior, she has been a writer of the Vandegrift Voice for three years. She is the current President for the Newspaper where she plans events and helps encourage her fellow students. Kate enjoys writing about sports and lifestyle articles, she enjoys writing about her fellow classmates and getting to know them. Go Vipers!