Football Beats Record for Most Points Scored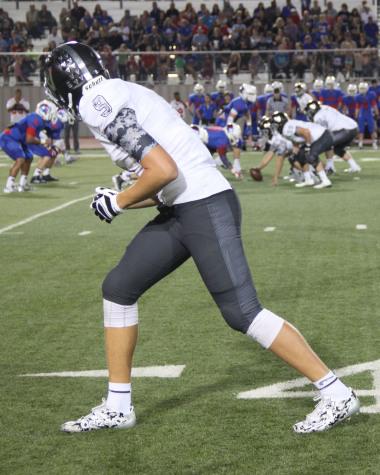 The football team broke their record for most points scored last Friday against Leander with the score of 56-27.
"Going in to the game we knew we needed to get a win," head coach Drew Sanders said. "We knew if we wanted to reach our potential that we had to win this game."
The Vipers were predicted as the underdog this season, but have shown to be a tough competitor every game.
"This season has been a lot different from last year," senior Jamie Hudson said. " We have a lot of new guys, our whole defense is pretty much all new. We also have a new offensive coordinator so as a whole, our  offense has improved. But over all we are doing really well and I'm proud of how far we have come."
Leander led the whole first quarter, but but that started to change in start of the second quarter.
"We wanted to start slow but we did finish fast," junior Paxton Segina said. "But thanks to Jamie's long run, which excited the crowd and defense especially, put up two or three turnovers that led to touchdowns and got us some points on the board. So we weren't nervous for long but the first couple minutes were ugly.
Previously, the most points scored in a game was 55 points, it was set at the Lanier game in 2010 and again against Elgin in 2014.
"It was really cool beating the record, we have been pretty close to beating it multiple times this season and to finally be able to do it was a good feeling." Hudson said.
The team is currently 4-1 and has a bye this week. Next week the team will play Vista Ridge at Gupton Stadium.
"We are pleased with the 4-1 start, but its just a start. We care more about how we finish than how we start." Sanders said.