Pink Out Game
Tonight, the Vandegrift Viper Varsity football team will be playing against the Dripping Springs Tigers.  It will be played at home, giving easy access to all Vandegrift students who wish to attend.  This week is also the Pink Out football game.
Pink Out is an event to help raise money and awareness for the Susan G. Komen Foundation.  the Foundation's mission is to find a cure for breast cancer, and all of the money raised at tonight's game goes to helping their cause.  There will also be "Stuff the Helmet," where attendees can put money in the helmet until it is full.
Many Vandegrift students are planning on attending to help a good cause, and have fun while doing so.  Sophomore Legacy, Darby Wright, is one of them.
"I'm excited for wearing pink hat bands and using pink poms!  I think this is a super fun event. My favorite color is pink and I love supporting breast cancer awareness," Wright said.
To help the cause, students and other attendees are encouraged to come and wear pink to represent "Pink Out."  Students are also being encouraged to sign up for "Viper Shoot" for a chance to shoot the VHS T-shirt gun into the crowd.  The school is also asking for donations to the Komen Foundation as sign-ups, but donations are not required.  One hundred percent of the donations will go to the Susan G. Komen Foundation.
"It's exciting because it's so energetic, everyone is hyped up and having fun," Torin Maguire, sophomore, said.
About the Writer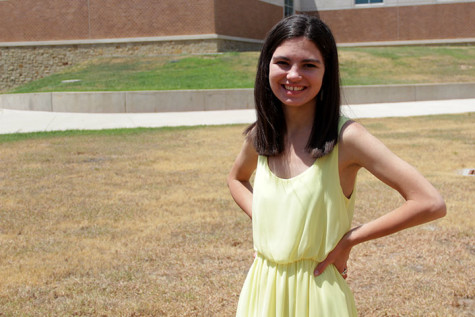 Emma-Rose Floyd, News Editor
Emma-Rose is a senior at Vandegrift. She has been a part of newspaper since her sophomore year. Positions she has held include Social Media Manager, and News Editor, a position she has had for two years. Emma-Rose  is also an active member of Key Club, dances in her free time and is a member of the UIL journalism team. She hopes to major in communications in college and become a full-time journalist.