Health bars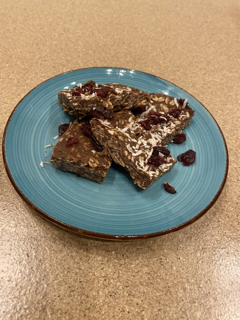 I make this sweet– but healthy!– treat more than once a week for my dad. This recipe is perfect for people who can't have dairy, artificial sugar, or gluten. 
Prep time: 5 minutes    Total time: 10 minutes    Servings: Around 24 bars
Ingredients:
3 cups rolled oats

1 ½ cups chocolate chips, prefer milk or dark chocolate

1 cup peanut butter, chunky or smooth works

½ cup maple syrup

¼ cup coconut oil
Optional: 
Dried fruit

Nuts

Coconut flakes
Instructions:
Line an 8×8 inch baking pan lined with parchment paper. Set aside.

In a large bowl that can fit in a microwave, combine chocolate chips, peanut butter, coconut oil, and maple syrup.

Put in the microwave for 1 minute or until the texture is smooth. Once the mixture is consistent with no lumps, add oats in a large bowl. If you want to add optional toppings, you may incorporate in the mixture at this time, if not you may add toppings on top of the mixture during step 4. 

Once thoroughly combined, place the mixture in a lined baking pan. Spread mixture evenly with desired thickness. If choosing to place toppings on top of the mixture, you may sprinkle it on and give a light press. This will help the toppings stay on top of the mixture.

Once done, place in the refrigerator for 30 minutes. Once firm, remove the treat from the baking pan and parchment paper, cut it into serving sizes, and enjoy!