Glass Onion: A multilayered performance
"Glass Onion: A Knives Out Mystery," directed by Rian Johnson, released in theaters on Nov. 23, 2022. With a $40 million budget and a stellar cast, the movie was a gripping and humorous murder mystery.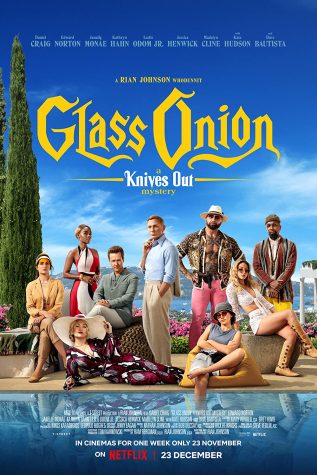 The movie spins off of the original Knives Out movie, showing Detective Benoit on yet another case. Billionaire Miles Bron played by Edward Norton invited his friends Birdie, Duke, Claire, Whiskey, Toussaint and his old partner, Angie, to his private island for a murder mystery party. The party takes a turn when one of Miles' friends turns up dead.
The plot of the film is well crafted. It explores the stories of each of Miles' friends and their history together. In doing so, the movie gives insight into the possible motives of every character, keeping you wondering who is responsible for the deed. Janelle Monaé delivers a particularly meaningful performance as Angie, with impassioned speeches and subtle expressions, adding depth and tension to the group. The twist is surprising, and the delivery helps make it an enjoyable whodunit. 
Overall, the movie continued Knives Out's legacy of a humorous and thought-provoking watch. "Glass Onion" is the perfect movie for people who love murder mysteries with a hint of comedy.