Original Fearless vs Re-recording Fearless
Taylor Swift released her re-recorded album "Fearless (Taylor's Version)" today, which included 6 unreleased songs like "You All Over Me,"  "Mr. Perfectly Fine," "We Were Happy," "That's When," "Don't You" and "Bye Bye Baby," all from The Vault. She also included songs that weren't even on the original album like "Jump Then Fall," "Untouchable," "The Other Side Of The Door" and "Today Was A Fairytale." 
When I first listened to the re-recorded Fearless album, I was so surprised by how different she sounded when singing her original songs from 13 years ago. The thing I noted as being most different was not only the way she sounded, but the way the beats were in the songs compared to their originals. "Tell Me Why," originally just country, is now a combination of country and pop which makes me like it even more.
I was also extremely surprised that in some of the songs she sounded the exact same, like when I was listening to "Breathe" and "Jump Then Fall," she sounded the same. So some of the songs she sounds the same, others she doesn't. 
My other favorite part of the album was the way Taylor Swift designed the new album cover from the original album cover. It looked so cool, and even though it wasn't identical to the original, it has become one of my favorite album covers of hers. 
So far, some of my favorite songs from the album are: "Tell Me Why," "Today Was A Fairytale," "Love Story," "Jump Then Fall," as well as "Mr. Perfectly Fine" from The Vault. I love all the songs, but those are my personal favorites.
I also really like how now that I'm older that I relate to some of the songs from the album. "Mr. Perfectly Fine" and "Tell Me Why" make me think of my ex-boyfriends and the relationships I had with them, and "Fifteen" reminded me of when I went through some of the things that were said in the lyrics. For example, I got a boyfriend at fifteen, he told me he loved me, and I also had a redhead best friend. "Breathe" was also the song I listened to when I lost one of my best friends. 
Even though I really love the album, there was also something I was dissapointed in. When I was listening to "You Belong With Me," there were some changes in the words that made the lyrics sound different that made me have to look at the lyrics. So with this song, I prefer the original over the re-recording.
Overall, I really do enjoy this album, and it's so awesome hearing Taylor Swift re-recording her old albums. I really hope she does the same thing with her "Speak Now," "Red" and "1989" albums. I also wonder if she's going to recreate her old music videos and what that's going to look like. People might ask me which Fearless album I prefer:  original or re-recording, and my answer to that question is both. I love the original because I grew up listening to it and I also love the re-recording because I get to relive the beginning of me becoming a fan of Taylor Swift. 
About the Writer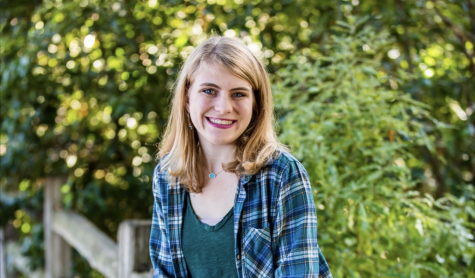 Taylor Chronert, Staff Reporter
Taylor Chronert is a junior and this is her first year on the newspaper staff. She is involved in Cross Country and Track at Vandegrift and has been doing that for three years. In her free time, Taylor enjoys reading, writing, listening to music, being outside, running, and spending time with friends