"Fable" Book Review
Written by Adrienne Young and published in 2020, "Fable" is about the sea and those that call it home. "Fable" tells the story of a girl who was left behind by her sailor father, Saint, on the island of thieves, Jeval. Her only goal is to survive. After her father's ship, the Lark, goes down in a vicious storm in the Narrows and Fable's mother dies, Saint leaves Fable on Jeval with the promise that if she finds her way back to him she will receive what is owed her. This book chronicles a young woman's journey to claim her birthright in a dangerous ocean world plagued by unforgiving storms and greedy sailors.
The story picks up after four years have passed and Fable has been forced to do what it takes to survive and find her way back to her father to claim her rightful place on his crew. To do this she trades the pyre she finds while dredging the reefs of Jeval the way her mother taught her to buy herself passage on the Marigold, a trade ship captained by a young man named West. But soon Fable discovers that not everything on the Marigold is as it seems and its young crew has plenty of their own secrets and debts. Fable is forced to confront harsh truths about the world she lives in and what kind of man her father truly is before making a decision that will alter her entire future in the Narrows.
"Fable" is wrought with shocking plot twists, betrayals and surprising alliances. Young weaves a tale so vivid you can smell the salt from the sea and hear the crash of thunder over the ocean. Her original plot line and well developed characters with complex background stories that fit the novel's misfit aesthetic combine to tell a compelling story. 
If you are a fan of misfits who save the day, then "Fable" is the book for you. Much like fan favorites "Star Wars" and "Percy Jackson and the Olympians," "Fable" is held together by a band of strays who always seem to pull it together at the last moment and accomplish the unthinkable.
I'm a sucker for strong female protagonists and Fable doesn't disappoint by any means. Fable isn't just strong though, she's smart and tricky and has learned to survive off of almost nothing and fight for what she wants with everything inside of her. However, in my many years of reading I've never come across a plot quite like Young's, where a young girl is forced to grow up too fast and use her uncanny ability to dive and locate gems in reefs. 
I highly recommend this book if you love a strong woman, a rebel, a do-it-yourself-er and if you're a fan of surprises. "Fable" takes you on an incredible journey filled with adventure, survival, and the bonds of friendship.
This novel is a wild ride of adventure and trust me, you'll want to be on it.
About the Writer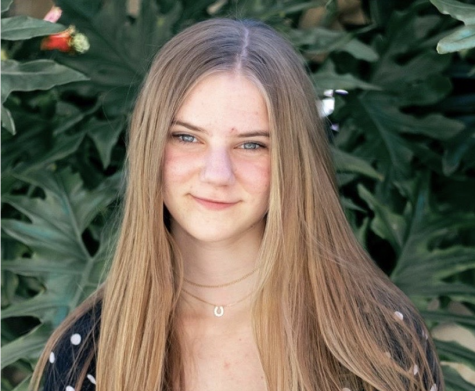 Katie McClellan, Co-Editor
Katie McClellan is a senior and this is her second year on staff. She's also a member of the yearbook staff and NHS. Katie loves to read, write, advocate, and spend time with her friends. She can usually be found on the lake or in Ms. Walker's classroom.