Book Review: 'Scar Tissue'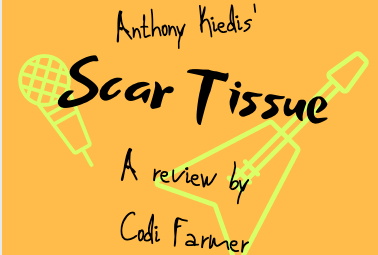 My dad lives and breaths rock n' roll so, naturally, he wanted to bring up his children with an appreciation for that genre. This means any music I heard growing up, other than my Hannah Montana soundtrack, was The Eagles, Led Zeppelin and countless other classic rock bands. One band, however, that had always stood out to me as the most interesting, the most talented and the best was the Red Hot Chili Peppers. I've been singing their classic songs since before I could even read a sentence properly. So, when I was browsing through the isles of Barnes and Noble and stumbled upon a book by the lead singer Anthony Kiedis, I was immediately intrigued. 
Kiedis' book, "Scar Tissue," is an autobiography that vividly depicts the lifestyle of a classic L.A. rockstar living life in the fast lane. He starts from the very beginning, describing his family life in his home town in Michigan, his father leaving to travel and party and his mother being in bad relationships that left her helpless and damaged, relying on young Anthony to help her. When he was 11, he moved out to L.A. to live with his father, who was a minor drug dealer in the Topanga Canyon at the time. Because of his father's hard-and-fast lifestyle, Kiedis was exposed to many things that are very irregular for someone of his age. He began clubbing with his father almost immediately after he moved to live with him and began experimenting with drugs provided by his father. 
Keep in mind, this is all before the Red Hot Chili Peppers original members had even met. Kiedis met Flea, the band's bassist, and Hillel, the band's original guitarist, while they were all in school. After they graduated, Kiedis went on to attend UCLA, as his father did, but soon realized that wasn't the place for him, so he dropped out. After doing many odd jobs to try and stay afloat and support his growing drug addiction, the Red Hot Chili Peppers were formed. From this point on, Kiedis' life gets wilder and darker than I thought was possible. The story progresses to show the depths of his opiate addiction, time in rehab, sexual experiences and life as a growing celebrity in one of the biggest bands of all time. 
The story deserves immense praise for Kiedis' brilliantly written and shockingly honest tale of his life. It's not for the faint of heart, for it gets sad and hard to read. There were many points when I had to put down the book because it was too much for me to process. After a certain point, you can even predict the next paragraph because he gets stuck in a clockwork pattern of girls, drama and relapsing. Regardless of his painful addiction, he gave perhaps the most reflective and transparent account of his past, detailing exactly where he started behaving like a bad friend, bandmate and boyfriend. At one point, he even got kicked out of the band because his addiction had gone too far. He gives acknowledgment to his horrible traits and manipulative behavior and he constantly shows how much he has grown as he recounts his horrible past.
Overall, the book is amazing. It's dark and deprecating, making you want to cheer yourself on because it makes you realize how much you may have done well in your life. It's inspiring and powerful, providing important insight into the dangers of addiction. Kiedis did an amazing job vividly depicting the obsessions and changes – both physical and mental – that come along with the choices made by himself and many other stars during this time period. It takes guts to openly display ones life and interactions with others in the open, but is well worth the 400-and-something page read.