Movie Review: 'Five Feet Apart'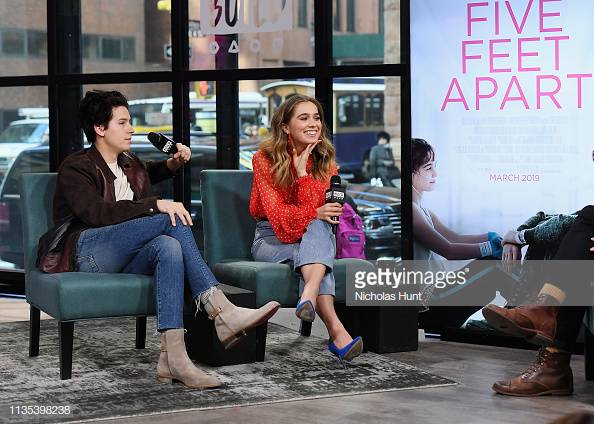 One of the popular movies that has been popping up on my feed most recently is the dramatic romance film, "Five Feet Apart". After seeing all the ads on my Instagram for the past two months, I thought I'd go and give it a watch. This movie, which is directed by Justin Baldoni, stars well-known actor Cole Sprouse and rising star Haley Lu Richardson in a bittersweet love story that has a bit of an emotional twist.
The story follows Richardson's character, Stella, who is a 17-year-old that spends most of her life in a hospital battling cystic fibrosis. Sprouse plays the semi-love interest, Will, who is a charming teen that shares the same illness. Throughout the film, flirting begins and their relationship builds. They continue to battle their illness as well as the strict rules they must follow in order to stay safe. One of those rules being that they need to be six feet apart at all times. Despite difficult scenarios, and a bit of heartbreak along the way, Stella and Will manage to fall more in love as time goes on.
One of the most apparent aspects I noticed while watching this film was the heavy amount of medical information thrown out as both characters go through their treatment. If a film consists of a critical and common illness and takes place in a hospital the entire time, one would expect their medical facts and the processes they show to be (mostly) accurate. "Five Feet Apart" did just that, not fearing to show the ugly and sickening truth behind some of the treatments Will and Stella encounter. The movie also doesn't fail to show true emotion, especially behind Stella's character, which makes the story more reliable, real and intriguing.
Another thing that sticks out is the acting. Richardson and Sprouse have incredible chemistry on screen, I think, adding to the attachment an audience member can get (which will definitely come in handy later on in the movie). Although I did think the character Stella was a bit childish, which took away from the authenticity at some points, she made up for it by displaying raw emotion with Will's character once their relationship was in full bloom. Both characters made me fall in love with them by the end of the film, and that's important when writing a romance movie. If the people watching can't grow connected to the main lovers, then there really is no point to the movie at all. The acting done by Sprouse and Richardson roped outsiders into their personal story, making an overall powerful emotional effect.
Usually when I go to watch movies in the theatre, I take my dad because he offers insightful opinions that get me thinking. This time around, I took my mom. It definitely was different, and we both were sobbing by the time the credits rolled. Sad movies tend to get my mom emotional in general, but if I was also crying, that's how you know it must be a really convincing movie. Love stories where the two characters don't always get their happy ending hit harder because they show the reality of things. Nowadays, people WANT reality. People want to be able to relate to the main characters somehow, they wants real life problems to occur. They don't want sugar coated stories. "Five Feet Apart" delivers all of those things, so if you are the type that wants to witness a love story like no other, I suggest you go buy your movies tickets as soon as you finish reading this article.