Movie Review: To All the Boys I've Loved Before
Today, Netflix is known for not only its wide selection of films and TV shows, but also its availability to original movies. Recently, after hearing all the buzz about it, I finally sat down to watch "To All the Boys I've Loved Before". This film came out to Netflix in early August, is directed by Susan Johnson and stars Lana Condor, Noah Centineo, Janel Parrish and many others. "To All the Boys I've Loved Before" is a romantic comedy meant for teenagers who are still too young to maybe appreciate the intensity of "The Notebook," but old enough to have grown out of Disney Princess fairytales.
In the film, audience members take a personal look into the teenage girl life of junior Lara Jean Covey, who writes secret love letter to her crushes and stashes them away with no intention to mail them. At the time, only two of these crushes, Peter and Josh, are relevant in her high school life. The plot thickens when all of her letters suddenly turn up missing, and those two crushes end up trying to confront her about the secret declarations of love. For the sake of saving herself from having to face the embarrassment of her old crush, Josh, she throws herself at Peter to make it look like she's in a relationship and moved on. This causes Lara Jean and Peter to have to follow through in a fake relationship in front of the entire school.
One of the first things I noticed when watching "To All the Boys I've Loved Before," was it's outstanding cinematography. Each frame always has its own pop of color to catch the viewer's eye. There are a few specific instances that got my attention, like a scene where Lara Jean is wearing a dull red skirt and sets her teal blue bike against the side of a old-fashioned style diner with a teal blue and dull red sign. Both the bike color, the colors of the diner sign, her outfit and even the color the traffic lights in the distance of the shot all contrast against each other, creating an image pleasing to one's eye. And that's just ONE example. Throughout the film, there are many shots similar to that one, where colors play a big part in the frame and many of the characters and objects are the center of attention.
Another thing that I noticed was how the amount of comedy there was balanced out the dramatic and lovey-dovey feeling of the film. Lana Condor is perfect to portray your average teenage girl who lives at home with her single dad and little sister. The laughter she can bring out of any audience member definitely makes the movie watching experience more enjoyable. I even found myself laughing along, which is a surprise considering I usually stay pretty poker-faced. In a movie with too much heaviness and drama, it can sometimes drag someone's mood down with it. There are even a few other Netflix original movies that weren't enjoyable because of this factor. "To All the Boys I've Loved Before" is not one of them.
Whether you and your friends are trying to find the perfect movie to watch during a sleepover, or you are chilling in your bedroom alone trying to procrastinate doing homework some more, "To All the Boys I've Loved Before" is definitely a go-to. It is a Netflix original movie, so the only way to watch it is to have a Netflix account and profile. If you don't, ask your friends! Tell them it's very important that you watch this one of a kind movie, and if they don't give you their Netflix password, you will never give them rides to school ever again.
Seriously though. It's for sure is not a waste of time to go and watch this film. You will most likely laugh, and — if you think tall boys with curly hair are cute — you will probably swoon as well. When you're done, go ahead and recommend it to all your friends.
Or just watch it again.  
About the Writer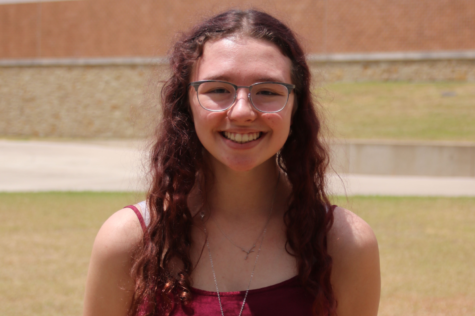 Claire Lawrence, Opinions Editor
Claire Lawrence is a senior and this is her third year on the newspaper staff. She wants to study journalism in college and eventually become the editor of a successful publication. She also enjoys theater and writing music.