Movie Review: A Star is Born
PHOTO BY DAVE J. HOGAN, GETTY IMAGES
"A Star is Born" is a dramatic film that follows famous musician, Jackson Maine (Bradley Cooper) as he helps rising-star, Ally (Lady Gaga), find stardom. Throughout their love-filled and heart-warming journey together in the music industry, Jackson's career begins to spiral out of control thanks to personal issues like alcoholism and drug use. Cooper is also the director of the film, and both leads display an amazing performance in this romantic drama. Other cast members include Sam Elliott, Andrew Dice Clay and Rafi Gavron.
The story starts with allusions into the fame-laced life Jackson Maine lives, along with the ordinary life Ally has. A not-so-cute meet-cute occurs between the two, sparking a relationship neither thought they would ever have. Their connection only grows from there, leading them down a road of fame, while Jackson continues to struggle with mental health. But, as Ally's career blossoms, their relationship begins to wilt. They have to overcome small and large bumps in the road in order to keep both their love and profession alive.
The movie isn't necessarily considered a "musical", but there are definitely music themes that revolve around the plot, considering it's about two well-known stars. Most of the songs were written by Gaga for the sole purpose of being in the film. The actual soundtrack wasn't released until the movie was, so fans had no idea what to prepare for. When sitting in a theatre with the music thumping through the walls all around you, having goosebumps is expected. The bass during songs like "Out Of Time" and the chilling piano in ballads like "Always Remember Us This Way" contrast each other to create a soundtrack like no other.
A Star is Born received a 8.4/10 on IMDb and 95% on Rotten Tomatoes. The Washington Post called it "trilling and gratifying" and Variety thought it was an "emotional knockout, but also a movie that gets you to believe." After only being out for less than a month, the film already grossed over $16.5 million in both worldwide and international box office. The sweep-off-your-feet romance is not something to be taken granted for, and it definitely deserves all the positive feedback it's been receiving in that past 10 days of being out.
I saw the film twice since its release, and both viewings consisted of tears and laughter. Normally after seeing a movie once, you already know what's going to happen and can expect the heartbreaking emotions, but with "A Star is Born," I was taken away just as much the second time as I was the first. As someone who thoroughly enjoys music, this movie made me fall in love with the characters that much more. But, you definitely shouldn't waste your time or money on this movie if you aren't emotionally prepared (this includes bringing a shoulder to cry on, and possibly a pound of tissues). Bradley Cooper and Lady Gaga delivered an overwhelming performance both as musicians and as an actors. This was for sure a movie that made my dad turn to nudge me and ask if I was all right. What? I'm not crying, you are!
About the Writer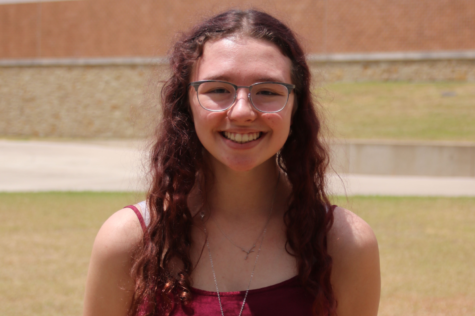 Claire Lawrence, Opinions Editor
Claire Lawrence is a senior and this is her third year on the newspaper staff. She wants to study journalism in college and eventually become the editor of a successful publication. She also enjoys theater and writing music.