Unravel Me book review
Unravel Me by Tahereh Mafi is the second book in the Shatter Me trilogy and takes place after Juliette, the main character, has escaped to Omega Point, a place where people with powers such as hers are free to be who they are and develop their abilities.
Rather than explaining all that happened in the first book, I will head into my review as you should already know what happened if you are reading a book review on the second book.
First of all, I will address the romance issue (I say issue because for me, that's what romance is in books). The "main" male lead is Adam, who is super in love with Juliette and vise versa leading to some clingy scenes in the book. The way Adam's character felt in the first book as far as I remember was that he was the typical broody character who was war smart and ready for anything. However, in this second book he seemed almost a ball of emotions that, granted men are totally allowed to feel, but also it was a bit… much considering his character in the first book. To be fair, he did just find out he actually can't touch the love of his life because she can kill him, and he really wants to be with her, but I mean come on, some things just aren't meant to be. If your girl wants some time alone to g over her thoughts and feelings and prepare for war where she may kill people, you might wanna give her some time to be alone. So there's that.
Speaking of Juliette, I loved the character development in this book. She went from a whiny baby who boo hoo has the ability to literally kill people by touching them and rip apart the earth with her fist. Honestly, all the crying was a bit too much to handle and I got really fed up until her friend, Kenji, gave her a few serious pep talks and basically told her to suck it up and realize how cool she is (and she is). She gained a self confidence that she didn't have in the last book and rose to her responsibilities. Granted she's still terrified of the war and she is totally allowed to feel terrified since she is technically a civilian with almost no military training and there's the fact that the supreme ruler of the area is coming after her?? That earns a place in my book.
I was glad to see the character development that was there, for all the characters. I hope the upward trend continues through the next book.
As an added bonus, I've gotten word that Mafi is releasing a TV show based on the book soon.
About the Writer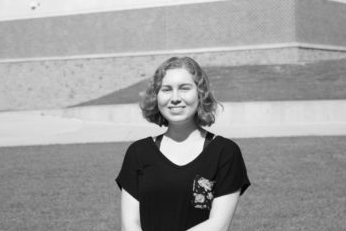 Caitlin McKeand, Co-Editor in Chief
Caitlin McKeand is a senior and this is her second year as a staff reporter for the Vandegrift Voice. In her free time, she enjoys reading, writing, archery, and dogs. Austinite born and raised. She is the Vice President of ASL Honor Society and works for the Riverplace Living Publications for the housing segment. One day she hopes to write a book.