Media Monday: Tinkerbell and the Neverbeast
Tinkerbell and the Neverbeast was first aired January 30, 2015 and is a G fantasy/action movie. The whole plot revolves mainly around Fawn, who is an animal fairy with the ability to speak to and understand animals. Honestly, I'm not sure why it's called Tinkerbell and the Neverbeast when Tinkerbell's not even the main character, but I guess you have to use the franchise somehow. The huge animal beast (Neverbeast) is this rat tailed, furry thing with markings on him and he's seen as the biggest evil to ever come to the fairy homeland, but oh hohoho you thought he was dangerous? Nope, he's actually here to save the whole earth.
Ok, real talk. I'm only mildly embarrassed to have said that I've watched this. Sometimes you just want to act like a child for a few minutes, and watching children's movies can do that for me (you know back when stress didn't exist). Whenever I don't want something that has dark adult themes, I turn to nice kids movies just to laugh at the movie and the fact that I'm watching it. However, it doesn't matter that it's a kids movie, because no matter how I like to be perceived, I'm a big baby when it comes to the cute morals of kids movies (especially anything involving animals), and yes I did cry watching this movie, thanks for asking.
About the Writer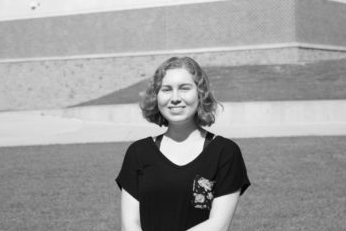 Caitlin McKeand, Co-Editor in Chief
Caitlin McKeand is a senior and this is her second year as a staff reporter for the Vandegrift Voice. In her free time, she enjoys reading, writing, archery, and dogs. Austinite born and raised. She is the Vice President of ASL Honor Society and works for the Riverplace Living Publications for the housing segment. One day she hopes to write a book.