Why the movie 'Room' should have won Best Picture
We are extremely privileged. We often don't recognize it because we are so constantly distracted by daily worries and issues, but many of us have a lot in our lives that we take for granted. The house we rely on for safety. The loving people we have by our sides. Our freedom. While watching the critically acclaimed film, Room, I started to finally fathom how privileged I really am and was in awe of the steadfast willpower of those who have endured true hardship.
Very few people are often in the mood for dark movies, but oddly they are always the ones that leave the greatest impact on us. When I heard what Room was about, I knew I wanted to see it, but I wasn't sure when I would be ready for that level of deep, thought-provoking material. After watching it, however, I was amazed by the surprisingly light feeling it left me with.
Room tells the story of a woman, Joy, who was kidnapped and held captive by a man for seven years. Joy and her son, Jack, who is conceived during her imprisonment, are confined to a small shed that they call "Room" for the entirety of these years. The man is the only one who knows the code for the door and the rest of the world has no clue that the pair is trapped there. In order to keep Jack sane, Joy convinces him that the whole world is held within that tiny room since he has no evidence to believe otherwise.
This story, based off of true events, is in my opinion one of the most powerful stories I have ever encountered. It is raw, emotional, unbelievable at points and incredibly inspiring. It was important that the movie portrayed the story with the amount of potency it deserved, and director Lenny Abrahamson did just that. The relationship between Joy, portrayed by Academy Award winning Brie Larson, and Jack, portrayed by young rising actor Jacob Tremblay, was both believable and immensely heart wrenching. Larson brought a quiet sense of strength to the role, along with a visible devotion and desire to protect her character's son. Tremblay, on the other hand, brought an astonishing depth to what I would call the most important and difficult character in the whole film. Jack is subject to these horrors from his birth onwards and it is imperative that the actor portraying him shows his transition to eventually comprehending that there is an entirely different world outside of what he has been convinced of to be true. Tremblay was only eight years old when the movie was filmed and yet he played the role in a way that no one else ever could have. His acting was almost too real to watch at points, bringing both the curiosity of a young child and the trauma's he has endured to life on screen.
I legitimately could not turn away from the screen for a second while watching Room. From the beginning on, I was hooked into this unimaginable story. It is crazy to think that this mother endured so much and yet still had the strength to protect her son. Her intelligence and courage, shown in her every action to save Jack and portrayed so honestly by Larson, left me utterly speechless. The movie didn't need many special effects or other in depth characters, because the Larsona and Tremblay as the two leads were so inspiring on their own. The simplicity of the costuming and set made the whole story just that much more realistic.
Overall, Room makes me a lot more thankful that I haven't had the hardships that many people have had in their lifetime and for that reason I would recommend it to anyone I know in a heartbeat. It is so important to have strength in any situation and to be appreciative, and Room made me realize that after one watch. Room is hands down the best movie I have seen this year and one that is going to leave a lasting impression on me for many years to come.
About the Writer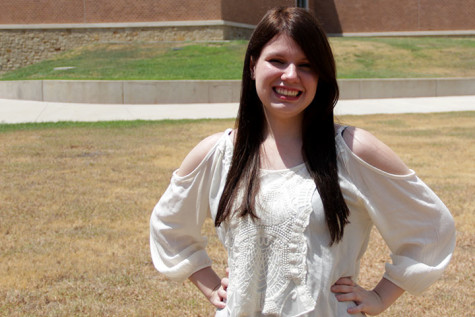 Alaina Galasso, Editor in Chief
Alaina Galasso is a senior at Vandegrift and this is her third year on the newspaper staff. She competes in journalism for Academic UIL and was previously sixth in district for Feature Writing, fourth in district for News Writing, first in district and region for Editorial Writing and second in state for Editorial Writing. She also works as a professional theatre technician outside of school and is an active member of the school's theatre department. She is currently the department's head stage manager but has participated in lighting, run crew and sound since she was a freshman. For her work in theatre she is a 9 star International Thespian and current secretary of Thespian Troupe 7613. She has also been involved in Student Council, the HCEF Inventeam, National Honor Society, Vision Dance Company, AVID and Latin Club throughout high school. She hopes to attend a top university up north and plans on majoring in Theatre Design, Production, and Management with a minor in Creative Writing.