Throwback to American Horror Story seasons 1-3
When anyone listens to fans of American Horror Story gush about the latest plot twists, they are most likely disturbed by what they overhear.  If you enjoy watching thrillers or are willing to try frightening your mind for a while, then most people would recommend this dark TV series for you. Graphic visuals of violence, extremely inappropriate subject matters and deeply psychological storylines have become trademarks of American Horror Story since its beginning in 2011.
American Horror Story was created by Ryan Murphy and Brad Falchuk, who both, ironically, also created the comedy Glee. Both creators wanted to try something challenging that would put people "off balance" after watching. They decided to make the series an anthology.  Each season contains a different horror-story-like scenario with new characters. Some cast members have become regulars in each season, but they always come back with a different role. I have so far watched the first three seasons and they have me actively interested in continuing on to the fourth and fifth.  
Season 1: Murder House
This introductory season really sets the standard for the rest of the series. It is set up to seem like it's a stereotypical story of a family moving into a new home that they later discover is haunted. However, the house's history is a lot more intricate and unsettling than most cliched paranormal stories. Anyone who is killed in the house remains there and the family interacts with both those who have been killed long ago and more recent additions. The ghosts' stories range from a deranged Frankenstein-like doctor to a gay couple who died in a murder/suicide situation to a man who tried to murder his entire family by arson. Each storyline is revealed as the ghost appears and it is all very well done. The situations are gruesome, but also created with very developed characters in mind. Usually I, someone who strongly dislikes horror movies, wouldn't have continued after the first episode after witnessing all of the carnage, but I enjoyed the characters backstories and motives. In addition to this, the slow progression of the family's insanity is extremely strong on the actors part.
Season 2: Asylum
The second season continues with the graphic violence and gore, but is instead focused in Briarcliff Mental Institution during the 1960's when electric shock therapy and lobotomies were still acceptable.  The story follows a reporter who purposefully commits herself to the institution, run by nuns and other people of the church, so that she can uncover the horrors within. The story itself is interesting, but I thought that overall there was too much to keep up with. There is a storyline involving the reporter, the devil, a mass murder and also an unneeded alien aspect. I wanted to see more involving the treatment of the patients and their individual disorders rather than the extra information that the directors focused on. Although the episodes were a little too chaotic, I did appreciate the acting, especially on the part of Jessica Lange.
Season 3: Coven
The third season is one that most fans disliked, but it was my personal favorite. Set in modern day, a teenager is sent to a special school after she unintentionally kills her boyfriend. The school turns out to be one for witches, created so she and other witches can learn to stimulate and control their powers. There is a Supreme witch who's daughter teaches the girl, a moviestar, a clairvoyant and a voodoo witch. Together the girls fight against another coven while the Supreme is out to kill whoever might end up taking her place. In addition to this, the girls get into a lot of trouble on their own such as resurrecting an innocent frat boy they accidentally murdered. This season includes a lot less gore and more drama, which is something I personally enjoyed. I also really liked the backstories involved Salem and racism, both of which were incorporated very well into modern day. My overall favorite thing about this season was that it had a more solid conclusion than the others. The next Supreme goes through the test of Seven Wonders, the coven is left utterly changed and we as an audience feel like all of our questions are answered.
About the Writer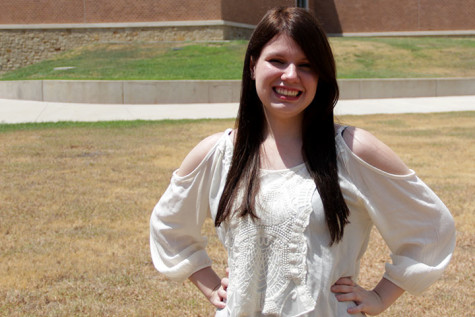 Alaina Galasso, Editor in Chief
Alaina Galasso is a senior at Vandegrift and this is her third year on the newspaper staff. She competes in journalism for Academic UIL and was previously sixth in district for Feature Writing, fourth in district for News Writing, first in district and region for Editorial Writing and second in state for Editorial Writing. She also works as a professional theatre technician outside of school and is an active member of the school's theatre department. She is currently the department's head stage manager but has participated in lighting, run crew and sound since she was a freshman. For her work in theatre she is a 9 star International Thespian and current secretary of Thespian Troupe 7613. She has also been involved in Student Council, the HCEF Inventeam, National Honor Society, Vision Dance Company, AVID and Latin Club throughout high school. She hopes to attend a top university up north and plans on majoring in Theatre Design, Production, and Management with a minor in Creative Writing.