Ballet Austin's 'The Nutcracker' succeeds once again
Every year before Christmas break begins, a friend and I go to see The Nutcracker.  For 11 years now we have kept up the tradition of going to dinner, taking pictures with the Christmas decorations and watching the Christmas-themed ballet. In the more latter years, we have begun to see Ballet Austin's version at the Long Center and the improvements over time have been immense.
The Nutcracker has grown more and more interesting for me with time. As I child, I had little patience or appreciation for difficulty of the dance being performed for me. Now that I have grown, I am in awe of the technique and grace of the entire cast. They portray an intricate silent story, which is a very challenging thing to do, especially in front of a crowd filled with a majority of younger children. The plot follows a young girl named Clara, who receives a nutcracker doll as a gift from her godfather, Drosselmeyer, at a Christmas Eve party. After deceiving her parents that she has fallen asleep, she returns to see the doll at midnight only to witness the world transforming before her eyes. There are evil rats in battle with the mice and soldier ornaments with the nutcracker leading them against the rat king. The nutcracker saves a overwhelmed Clara and takes her away to a winter wonderland, where various members of the court, lead by the Sugar Plum Fairy and her Cavalier, greet the pair. After their journey has come to an end, the nutcracker returns Clara to the safety of her home.
Ballet Austin, in particular, does an excellent job of bringing the story to life. You soon forget that you are watching a stage production. On their 50 anniversary,  Ballet Austin redesigned their set and costuming. At first, the changes seemed unwelcome to us who had loved the traditional look of the show, but this year I appreciated the new bursts of color and gorgeous scenery. The battle scene in particular is much better, with new giant toy pieces and Christmas tree fringe surrounding the stage to make it appear like Clara has shrunk to the size of a doll. Also, the new mice costumes leave nice perspective shadows on the set and the snowflake dancers look more elegant than ever before.
This year, I really paid attention to the performers' acting. Even when their character isn't the center of attention, each dancer remains incredibly expressive. We were seated on the front row, so I was able to see each improved expression. I could tell that each dancer had created a backstory for themselves and it really made a monumental difference. In fact I thought that, overall, this year was the best. Despite some of the dances being cut short and the dancing technique a little simpler than in the past, I thought Ballet Austin really outdid themselves regarding the graceful choreography, wonderful storytelling and the beautiful set and costuming. I would highly encourage anyone to make The Nutcracker their Christmas tradition as well.
About the Writer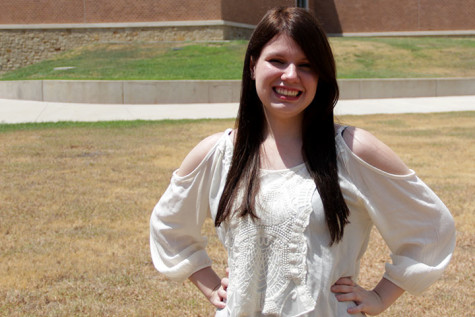 Alaina Galasso, Editor in Chief
Alaina Galasso is a senior at Vandegrift and this is her third year on the newspaper staff. She competes in journalism for Academic UIL and was previously sixth in district for Feature Writing, fourth in district for News Writing, first in district and region for Editorial Writing and second in state for Editorial Writing. She also works as a professional theatre technician outside of school and is an active member of the school's theatre department. She is currently the department's head stage manager but has participated in lighting, run crew and sound since she was a freshman. For her work in theatre she is a 9 star International Thespian and current secretary of Thespian Troupe 7613. She has also been involved in Student Council, the HCEF Inventeam, National Honor Society, Vision Dance Company, AVID and Latin Club throughout high school. She hopes to attend a top university up north and plans on majoring in Theatre Design, Production, and Management with a minor in Creative Writing.