Gilmore Girls returns to Netflix
Hang on for a minute...we're trying to find some more stories you might like.
In light of recent news that Gilmore Girls is coming out with four 90 minute episodes that are set to air on Netflix coming soon. Here are some reasons why you should become a fan, if not one already. And a look back of some of the best Gilmore Girls episodes to date.
Gilmore Girls is awesome! The fast pace humor and witty comebacks make the show. And the unstoppable mother daughter duo of Lorelai and Rory Gilmore, brings the sense of girl power.

The mother daughter duos in the show are unstoppable! With the almost perfect mother daughter relationship of Lorelai and Rory, to the complete opposite with Lorelai and Emily, you get to see each relationship and how they change with the ups and downs that happen each season.

The relationships are of the very best parts of the show. Watching Lorelai and Rory and all the men that they go through is part of the fun. Is it going to be Luke or Christopher? And will Rory end up with Logan? Who are all of these lovely men that I speak of? Well, you should watch the show to find out.

College. How will Lorelai manage without her only child out of the house? And what will Rory do without having her mom always around?
Here are some of the best episodes:
The Pilot- The show first aired on Oct. 5, 2000
The pilot shows Rory getting into the elite college-prep school Chilton, kickstarting her Ivy League dreams, as well as the beginning of Friday night dinners with Lorelai, Rory, Emily, and Richard. Together, the plot points create a rich foundation for the rest of the season and series at large, and they illustrate the complex relationships of the show.
"I Can't Get Started" (Season 2, Episode 22)
Christopher and Lorelai finally reconnect, but their reunion is short-lived due to news he receives from his ex-girlfriend, Sherry. Rory, meanwhile, continues her flirtation with Jess, though she's still dating Dean. Yet Rory does the unthinkable and kisses Jess right before leaving for the summer. Leaving us with the burning question of what the heck is going to happen with Dean?
"The Lorelais' First Day at Yale" (Season 4, Episode 2)
Rory's first days into college poses an interesting question: What happens when you separate the inseparable Gilmore girls? Rory meets her freshman roommates and surprise, Paris is back! Oh you know this will make the next four years oh so interesting!
"Partings" (Season 6, Episode 22)
This was the last episode that show producer and writer wrote and after that the show changed forever.
The dreaded day has come, Logan has graduated but the love must continue. Logan is being shipped off to London to do some growing up and learn about the business world. Rory does what every sensible girlfriend would do and throws him a big party before he leaves. Lorelai is put into an uncomfortable situation when her parents set up Christopher on a blind date at family dinner. This causes Lorelai to realize that she is not going to marry Luke and that their relationship had might have been a huge mistake.

Now that the show is coming back, the show creator and writer Amy Sherman Pallimino said that she will be writing the episodes. She will right all the wrongs that were done in season 7. Also answering  the questions that fans have been wondering for the last eight years!


About the Writer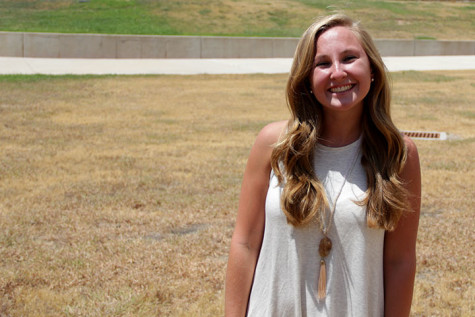 Kate Murphy, Newspaper President
Kate Murphy is a senior, she has been a writer of the Vandegrift Voice for three years. She is the current President for the Newspaper where she plans events and helps encourage her fellow students. Kate enjoys writing about sports and lifestyle articles, she enjoys writing about her fellow classmates and getting to know them. Go Vipers!