On The Run Wild Tour stops in Austin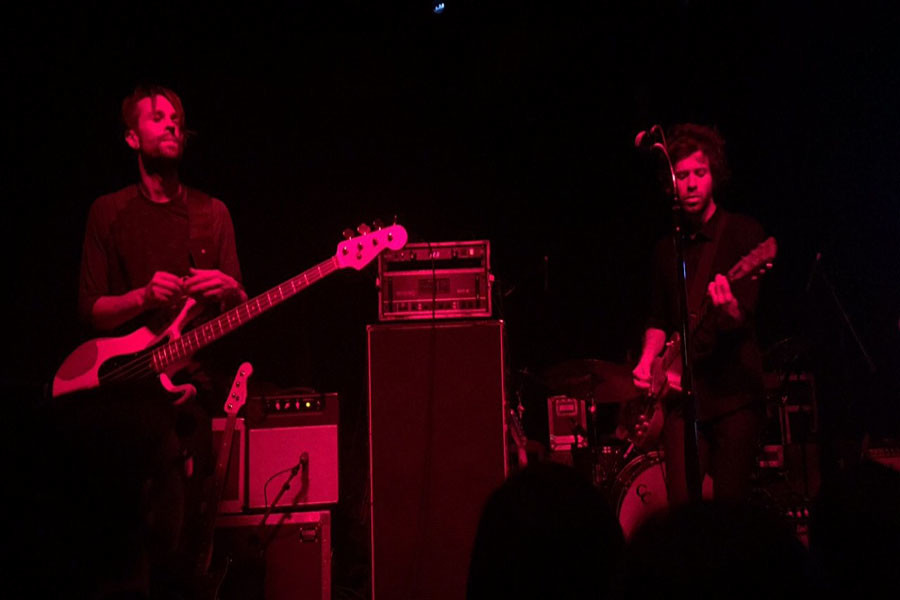 Lydia, an indie rock band originally from Gilbert, Ariz., is currently headlining a fall tour with Seahaven, Turnover and the Technicolors entitled On The Run Wild. The ensemble came to The Parish in downtown Austin Sept. 18, and I was fortunate enough to attend. I got to witness the unique blend of four very diverse bands in an extremely intimate venue.
The Parish is on Sixth Street and has a 450 maximum capacity. Although it is a bar and is located in what is called the "raunchiest" part of downtown Austin, The Parish's small-scale size is perfect for close-contact concerts. The band members walk through the crowd before and after their performance, and while on stage they are completely visible from every corner of the room. Even though the stage is cramped, the performers still found ways to dance and show their enthusiasm. The only downside to The Parish was its staff. They did a decent job of monitoring the audience and watching the bar, but they could be a little overbearing and occasionally creepy. Guarding the bathroom door is a little obsessive for what is supposed to be a casual event with only a 100 or so people attending.
The first band to perform was the "newbies," The Technicolors. Although they have only been around for three or so years, it is debatable that they were the band with the most energy and the best set. With a blend of alternative and classic rock, they easily did their job of pumping up the audience for the night ahead. They had me and everyone else encaptured from their opening (even though a majority of the audience had never heard of them) and they kept up the high energy until the end of their four-song set. I am honestly disappointed they are not headlining their own show yet.
Next up was Turnover. This band was extremely tuned down compared to the Technicolors. The audience had to shift gears from heartracing rock to softer, more psychedelic tunes. This older band has a more mellow style with excellent execution of their set; the type of music that the audience could easily bob their heads along to. The lead singer was obviously very invested in his deep lyrics and the rest of the band was devoted to their individual instruments. At times they seemed a little distant from the audience and I got vibes that they were unhappy about being an opening band. Despite this miniscule setback, I enjoyed their sound and plan on listening to more of their albums in the future.
Right before the main act was an alternative, punk band called Seahaven. I had high hopes for this band because they were the most known besides Lydia, but I was exceptionally disappointed. Although their music itself sounded fantastic, with catchy guitar riffs and perfectly-timed mood shifts, the vocals ruined it. The lead singer has a voice that sounds alright on records, but in person he sounded ultimately too throaty and whiny, and the result was a tainted set. It was almost impossible to decipher what the lyrics were and the vocals distracted from the remarkable music being made in the background.
The mainstage band, Lydia, did not disappoint. Lydia has a more garage-rock sound with occasional lighter melodies and definitely knew how to please their crowd. Their set was significantly longer than each of the openers, and consisted of songs mainly from their album from two years ago. There are only three band members, but they created just as mind blowing of sound as four or five person bands I have seen in the past. Their music is easy to listen to and easy to get into, whether you are paying attention to the unique lyrics, one of the band members or the all pleasing together sound. Lydia was comfortable on stage and made the entire audience feel included in their performance. They rounded off the evening well, and overall it was a very rare experience to be able to compare four different bands back to back.
About the Writer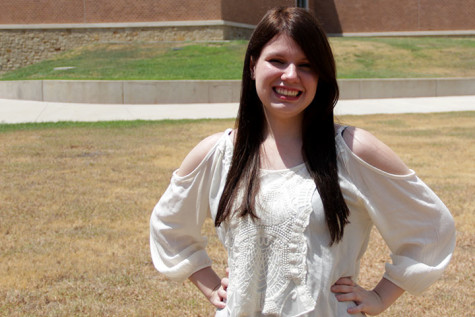 Alaina Galasso, Editor in Chief
Alaina Galasso is a senior at Vandegrift and this is her third year on the newspaper staff. She competes in journalism for Academic UIL and was previously sixth in district for Feature Writing, fourth in district for News Writing, first in district and region for Editorial Writing and second in state for Editorial Writing. She also works as a professional theatre technician outside of school and is an active member of the school's theatre department. She is currently the department's head stage manager but has participated in lighting, run crew and sound since she was a freshman. For her work in theatre she is a 9 star International Thespian and current secretary of Thespian Troupe 7613. She has also been involved in Student Council, the HCEF Inventeam, National Honor Society, Vision Dance Company, AVID and Latin Club throughout high school. She hopes to attend a top university up north and plans on majoring in Theatre Design, Production, and Management with a minor in Creative Writing.