Tomorrowland Movie Review
Hang on for a minute...we're trying to find some more stories you might like.
Tomorrowland was one of the May movies that everyone was excited to see. It has George Clooney and Tim McGraw in it so how could you not be excited? The movie's plot begins when Casey Newton (Britt Robertson) touches a lapel pin with the letter T on it and she finds herself transported to Tomorrowland, a city filled with huge robots and sleek buildings. Casey recruits the help of scientist Frank Walker (George Clooney), a previous visitor to Tomorrowland, who years ago made a startling discovery about the future. Together, the two adventurers travel to the metropolis to uncover its mysterious secrets, as the fate of mankind hangs in the balance.
The plot seems very interesting, and lets be honest here anything with George Clooney is assumed to be good right? Well, I am very sad to say that the movie fell short of my expectations. Though the plot was good, the actors were better the storyline.Everything seemed to drag on a little long. The movie was a little under three hours and it doesn't end in the way that it seems that it should. It is all action and more action and then you think that something is going to happen and the it just ends. The end of the movie seemed like it is being set up for a sequel, but it still did not end in a way that I was pleased with. So as much as I would have liked the movie to be great it just didn't live up to the expectations.

About the Writer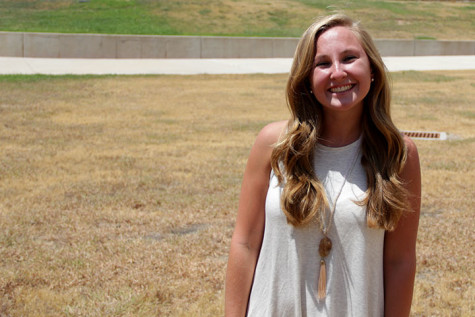 Kate Murphy, Newspaper President
Kate Murphy is a senior, she has been a writer of the Vandegrift Voice for three years. She is the current President for the Newspaper where she plans events and helps encourage her fellow students. Kate enjoys writing about sports and lifestyle articles, she enjoys writing about her fellow classmates and getting to know them. Go Vipers!