Book Review: Wild
Wild, an autobiography written by Cheryl Strayed, depicts her journey hiking on the Pacific Crest Trail (PCT). She made a snap decision to hike all 2,650 miles of the trail from Mojave Desert to Washington State after losing her mother to cancer, her husband to divorce and herself in the process. The novel, a New York Times Bestseller, beautifully pieces together Strayed's expedition as she went "from lost to found" on the PCT.
I received Wild for Christmas and had heard of it because the movie with Reece Witherspoon had recently come out in theatres. At first I wasn't altogether that interested to read the book. However, I picked it up anyways and was almost immediately engrossed with Strayed's detailed writing and her incredible story.
Strayed jumps right in and from the first page begins to describe her hardships. She opens the readers eyes to nature and a world where survival doesn't come easily. After struggling with her life for quite some time, Strayed came across a travel guide to the PCT and decided that she would like to pursue the trail. She began saving up waitressing tips and researching backpacking, but from the first day it was apparent she was not even close to prepared. Although she overpacked her backpack, nicknamed Monster since it ended up weighing half of her size, Strayed found herself without the right supplies again and again. Within weeks her feet were torn to shreds and she's dehydrated, broke and exhausted. The novel closely follows her day to day actions, from describing her close calls with nature to characterizing the interesting people she comes across either on the trail or while she hitchhiked. Strayed provided her backstory as she went along so the majority of the book goes back and forth between her present and past.
As I flipped through each page of Wild I found myself sympathizing with Strayed more and more. Even though I haven't been through half as much as she has, I found her story of self-renewal inspiring. Her journey seems unbelievable and rather insane but her reasons begin to make sense and have started to appeal to me. Strayed is of admirable character; her strength and perseverance shines through with each new experience she shared. This novel makes me see what's really important and has slowly started to change my perspective on the world around me. I'd recommend Wild to anyone looking for a read that'll truly make you think.
About the Writer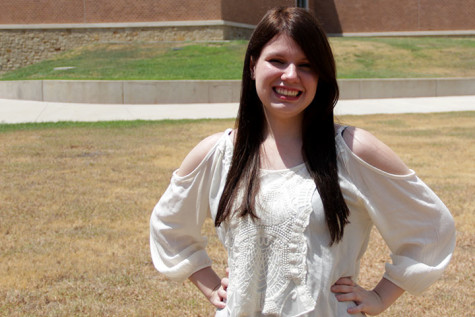 Alaina Galasso, Editor in Chief
Alaina Galasso is a senior at Vandegrift and this is her third year on the newspaper staff. She competes in journalism for Academic UIL and was previously sixth in district for Feature Writing, fourth in district for News Writing, first in district and region for Editorial Writing and second in state for Editorial Writing. She also works as a professional theatre technician outside of school and is an active member of the school's theatre department. She is currently the department's head stage manager but has participated in lighting, run crew and sound since she was a freshman. For her work in theatre she is a 9 star International Thespian and current secretary of Thespian Troupe 7613. She has also been involved in Student Council, the HCEF Inventeam, National Honor Society, Vision Dance Company, AVID and Latin Club throughout high school. She hopes to attend a top university up north and plans on majoring in Theatre Design, Production, and Management with a minor in Creative Writing.