Movie review: "If I Stay"
As summer winds down the chilly, rainy, fall days are upon us to make for a perfect trip to the movies. If you are searching for a chick-flick with a captivating story including music and romance, then If I Stay should be added your list of must sees. If I Stay by Gayle Forman, is a very popular book that was recently released on the big screen at the end of August. Chloe Grace Moretz (as Mia), and Jamie Blackley (as Adam), are the two main characters that fall helplessly in love with each other.
If I Stay revolves around a car accident involving Mia's family. The movie is constantly flashing between the present day car accident, and the past year or so that has lead up to the accident. In that Year, Mia has fallen in love, pursued her dream of music, and faced the trials and successes that come along with life.
Adam comes into Mia's life when he first hears Mia playing the cello and instantly  falls under her spell. His rock band is becoming increasingly popular throughout their town and is gaining recognition from music producers. Together, they bond over music and spend every waking second with one another. Over the year Mia pursues her dream of Juilliard, while Adam's band becomes wildly popular. The movie depicts a perfect fairytale relationship between Mia and Adam as they go through life together and make each other better. Unfortunately, they are also faced with some tough realities of life that cause tension and hard decisions to come.
Throughout the character's love story, Mia's out-of-body experience the day of the crash allows her to witness her own personal and family tragedy and the outpouring support she receives from the important people in her life. In the hospital Mia realizes how essential her family and friends are to her. She witnesses herself fighting for her own life and finally comes to understand all the wonderful people she is fighting to live for.
If I Stay is sure to pull at the audience's heart strings by artistically balancing a romantic and drama filled movie all into one. I personally enjoyed the film so much that I have shamelessly seen it twice and have recommend to my own friends and family.
About the Writer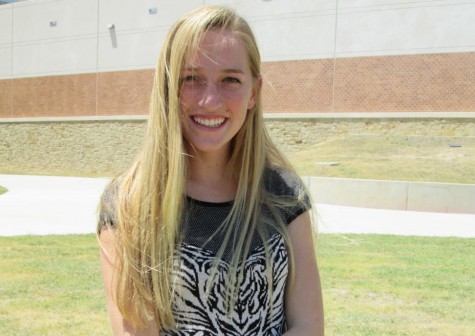 Madison Smith, Staff Writer
Madison Smith is a staff writer for the Vandegrift Voice newspaper. She is very involved in many clubs and organizations holding the title of student body president. She spends lots of time with her friends and family and is always up for a new adventure. Madison aspires to be a videographer and is excited for her senior year as a Vandegrift viper.