On May 26, director Rob Marshall released one of the year's most controversial live action films: "The Little Mermaid". Marshall took on this project to reimagine the 1989 Disney cartoon, however the response his casting received sparks conversation all around due to the leads appearance not matching some viewers' expectations. This highly anticipated production stars Halle Bailey (Ariel), Daveed Diggs (Sebastian), Jonah Hauer-King (Prince Eric), Melissa McCarthy (Ursula) and Javier Bardem (King Triton).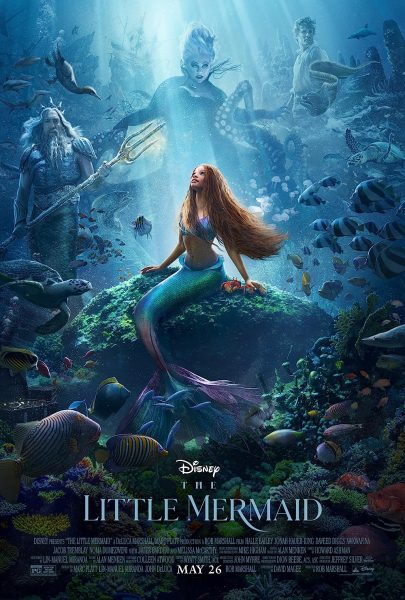 Immediately following its release, with no hesitation, I booked the tickets. The moment I was seated, the child in me who had hummed "Part of Your World" endlessly, gazed at the screen, waiting in anticipation. As the movie begins and I'm introduced to the protagonist's world, the visuals allow me to feel as though I am an extra in the film, pleasantly following along in the sea. My eyes illuminate when introduced to the characters. The creators' ability to produce visual effects this elaborate and realistic astonished me and brought the entire movie together.
Never once through the two-hour film did my foot stop tapping. As a pre-existing musical, the music expectations were set high. While I was disappointed in the deletion of my favorite original song, "She's in Love", Marshall made up for it with the brilliance of the new tracks such as "For the First Time" and "Wild Uncharted Waters". They added a spark to the storyline that uplifted the viewers and tugged on emotional strings. Of course, lyrics are one thing and it's up to the actor to deliver a magical performance which is exactly what each character did. I believe that Bailey's rendition of "Part of Your World" was perfectly executed and allowed the actress to show her uniqueness and originality while still honoring the original. 
Upon entering the theater, I had no doubt in Halle Bailey and her castmates to establish a performance worth watching, but their performance exceeded the image I had hoped to be portrayed. The elegance Ariel held was balanced out with power and the ability to convey the message that was established more prominently than the one we watched as children. The dedication put towards each aspect of the creation of the film paid off and delivered the idea that it is advised you to run towards your passion, pushing past things that get in your way.
Even as I exited the theater, my heart stayed under the sea in the fantasy they made so beautifully, one I would certainly go see again.