"Asylum" book review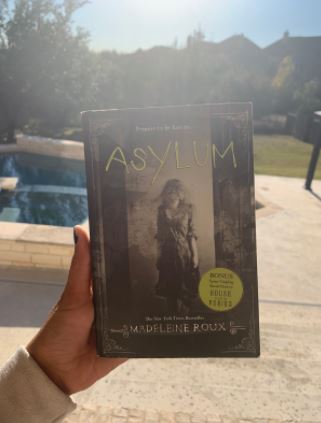 Excited to be away from home at a state of the art college prep summer program, Dan is ready to study and maybe make some new friends. But his adventure takes a drastic turn when he ends up staying in an asylum. 
"Asylum," written by Madeleine Roux in 2013, is a young adult mystery novel. It follows Dan Crawford, a high school senior who has been accepted into a college prep program over the summer. Soon after arriving at the program he is informed that his dorm used to be an asylum. He meets Abby and Jordan, two other students in the program, and they become good friends. As the program drags on, they explore the building further, and soon they all discover that each of them has connections to the asylum. They all ended up there for a reason, they just don't know what it is.
The novel is very well written; Roux's style throughout the book is very easy to follow for a casual reader like me, and it's a very simple read. She doesn't use any complex verbiage, except for when detailing the things that went down in the asylum like lobotomies and electro-shock–yikes. Her wording is easily understood, yet she is able to maintain that sense of mystery in every sentence.
Roux's character development is unlike any other. We are introduced to each character at the beginning, and you are able to see each of the characters personal growth. She makes them all have very relatable traits so that when reading it I felt like I was close with them. And every character in the book had a purpose. Oftentimes, in books a character gets brought up for one thing and then never heard of again – but every character ends up making a difference in the story. 
Every last detail of the story captured the essence and vibe of the book very well. Included in the book were pictures from actual asylums from the past, the pages were detailed so that they had a darker tone and even the font was a little spooky. The most chilling part for me were the embedded photographs. They were photos that the characters found in the story, but the scariest part was that they were real. The lobotomies shook me to my core. If Dan was scared, I was even more scared.
Overall, I enjoyed the novel; It was a mystery I was trying to solve with them, and I couldn't put the book down for the twists and turns. I was gripped in–it was that good. If you enjoy mystery and horror, I absolutely recommend this book.