"The Sinner" series review
A few weeks ago I finished watching "The Sinner" produced by Donna E. Bloom. You can watch the series on Netflix and Amazon Prime. Each season, we follow the main character, usually a controversial figure carrying many secrets. We also follow our detective, Harry Ambrose, as he looks not only at, but deep into and truly behind, each case. Somehow, I managed to watch season two thinking it was the first season and season one like it was the second. But I have to say, it was in my favor. Let me explain myself. 
SEASON ONE 
Cora Tannetti, a housewife and wallflower, commits a gruesome public murder seemingly out of nowhere. It falls upon Ambrose and his team to dig deep at Tannetti to find why such an unassuming woman could do something so sinister. I'd say this was my least favorite season of the series because of how forgettable the plot was. I will say, though, the strongest part of the season was the first few episodes. After about episode three, things that were easier to grasp became too predictable and the more complex part of the plot became unfollowable. I also have to say Detective Ambrose's presence in this season was peculiar. There was a side story about his personal romantic and sexual life that was unneeded and weakened his character in my opinion. It was uncomfortable to watch, made the storyline even more difficult to follow, and was just, to be frank, weird and cringe worthy. For those reasons, I would give season one (generously), two out of five stars.
SEASON TWO
Ah, season two. My favorite of the series. This season is filled with intense plot and characters, strange communities and dark secrets. What on the outside, seems to be an environmentally friendly commune where anyone and everyone is welcome, is a mask for the grim reality. Our main character, Julian Walker, fights between the love for his mother and his home, and the beginnings of the true moral compass, which seem to contrast. I would argue this is the best season of the series because of its bizarre scenes and eccentric characters. As someone who has a strength in picking up hints of foreshadowing, the plot of each episode went unanticipated. I would rate this season five out of five stars because of it's unusual and fresh storyline and the shocking occult imagery that felt "Midsomer"-esque. Something about the elusive utopia and mysticism of the Walker's cult drew you in, almost hypnotizing you to be blind to the horrors behind. That I found especially interesting as true cults use the tactic of illusion. The behaviors and actions of Julian were also psychologically accurate. This season is definitely spot on in portraying a cult and someone raised by the cult leader. I'm really glad I accidentally watched Julian's season first. 
SEASON THREE
One night, private academy teacher Jamie Burns and his pregnant wife Leela have an unexpected visitor from Jamie's college years show up on their doorstep, bringing back old memories and striking fear and uncertainty within. An old friend, Nick Haas steps back into Jamie's world and rocks it. The same night, Jamie and Nick take a drive that ends in a fatal accident happening in front of artist Sonya Barzel's house. The story quickly unhinges, spilling out secrets of the past. Jamie paints his life to be one big game of Russian roulette, or a violent match of duck, duck, goose. Jamie unleashed a path of destruction and uncertainty as detective Ambrose follows behind. I enjoyed the season because of how jarring and risky everything was. But, I found myself disliking it more and more after Sonya, in my opinion,  became far too involved in the plot after the crash. She's the type of character who is unafraid and stubborn, but not in an enjoyable or like-able way. It was frustrating to watch her make choices and put herself in danger. This season you see Ambrose becoming more weak and more fearful and if this is the last season, if we never get to see the detective again, I have to say his presence in this season was depressing. I would rate this season three four out of five stars because it was easier to follow than the previous two, which is a must have for someone like me. If the future holds more seasons for "The Sinner" I would love to see Ambrose with a more sturdy presence and a more sound mind.  
Overall, I would rate the series three out of five stars as I felt seasons one and three were much weaker plot wise, than season two. Although, I found the series to be easily digestible, but had enough plot twists to make watching worthwhile. If you're the type to love a good mystery or crime show, "The Sinner" is a great choice for you.
About the Writer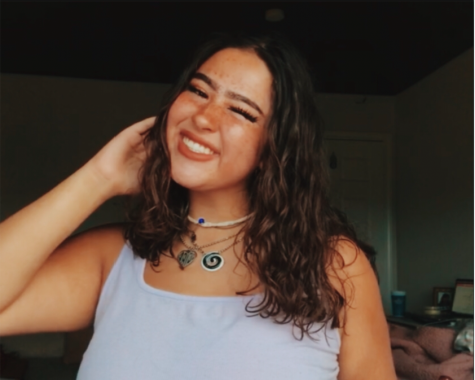 Priya Gregerson, Co-Editor
Priya Gregerson is a senior at Vandegrift. She decided to return to the Vandegrift Voice because she's passionate about getting to know other people and...