Wait, what about the graduation caps?
For years, the district has restricted the decorating of graduation caps. What is a creative right of passage for some high school seniors is not allowed here in Leander ISD. This year, when the annual letter with graduation instructions gets sent out to seniors, "No decorating graduation caps" will still be on the list of rules.
The school district should allow seniors the creative freedom to decorate their caps for graduation.
While I am only a junior, I strongly oppose the rule about graduation caps because I will be the one with a bland cap next year. Every year graduation cap tutorial videos swarm Youtube, and seniors have to ignore them because of a silly rule. Graduation is supposed to be a celebration of the things seniors did while in high school, and their caps should show that. Attending college in itself is a huge accomplishment, but there are students from Leander ISD that will go to Ivy Leagues and they won't be able to showcase such an accomplishment.
When the district doesn't allow seniors to decorate their graduation caps, it punishes the students who worked hard all four years of high school to walk across that stage. There are over 38,000 students in Leander ISD. This large number of students shouldn't be punished because of the administrators' fear of inappropriate caps at graduation or hurt feelings. Getting to decorate a graduation cap is a reward that students at other schools get the luxury of enjoying.
Seniors buy their cap and gown, so why shouldn't they be able to decorate their own cap? It's the family's property. Students and parents should be able to decide for themselves what they want to do with an item they paid for.
Seniors aren't allowed to decorate their caps because administrators are worried students will choose decorations that aren't school appropriate, and they worry caps send the wrong message about graduation. It is ridiculous to believe that every student will decorate their cap inappropriately. That is simply impossible. Again, the entire senior class shouldn't be punished for the acts of one. Some believe that by embellishing caps with college decor, students send the message that graduation is only about what college is on top of their cap. That is a selfish assumption. Contrary to popular belief, students will not feel bad if they see a "better" college on their friend's cap.
Administrators could allow for decoration of graduation caps with a few restrictions. For instance, APs could make it clear that caps must be school appropriate. If students don't comply with that rule, they will not be allowed to wear their cap at graduation. Seniors could be required to bring their cap to senior breakfast and rehearsal to be approved. If their cap is not approved, the student will not be allowed to have decorations on their cap at graduation.
Allowing students to decorate their graduation caps doesn't have to be a difficult task. With some simple guidelines, a tradition for many could be brought to Leander ISD.
About the Writer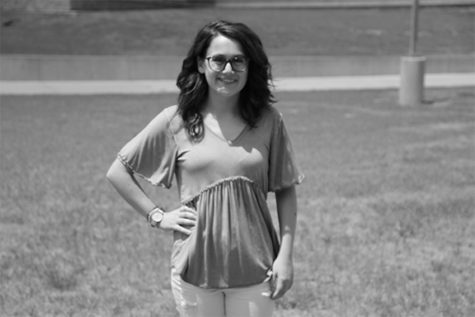 Jennifer Walker, Editor-in-Chief
Jennifer Walker is a senior and this is her third year on the newspaper staff. Jennifer took Journalism during her freshman year and fell in love with the journalism department. When she is not in newspaper, Jennifer can be found in the broadcast studio or working on a piece for AP 2D Design. She will study Communication Design in the Honors College at the University of North Texas next year.