Why you should bring your mom to a rap concert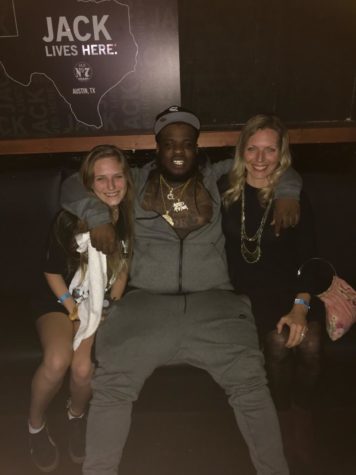 Last Tuesday, I found myself devastated when two of my friends who were supposed to join me at a No Jumper concert cancelled. The rap concert made me more excited to think about than anything I'd ever gone to. I was both eager and passionate about going, for I'd been waiting nearly two months with my VIP ticket sitting in my email inbox. I had no idea what to do, and when brainstorming on who to go with, I had a thought: What if I brought my mom?
At first, my mom was reluctant to go. She thought everyone at the show would make fun of her for being the only mom. When I explained to her that it would be hilarious, she finally gave in. My mom and I have always been close, and this concert would be good for us to spend time together and have fun without my little siblings getting in the way. Sure enough, on the day of the concert, my mom was extremely excited to take me to meet my idol, Adam22 of No Jumper. I'd been a huge fan for about 6 or 7 months now, watching every vlog and interview that he put out with various rappers and internet stars. I couldn't wait to bring my mom to her first concert in years.
The first problem that got in our way was the issue of my mother not having a VIP ticket like I did. The night before the concert, my mom frantically searched for a ticket on sale, but they had been sold out. So like moms do, she solved the problem. My mom emailed the manager of the No Jumper tour, a 20-something guy named Troy. After composing a desperate email stating she wanted to escort me backstage because she was worried about her 16 year old daughter being alone, my mother was emailed back a kind reply stating that it was fine if she came along and Troy's phone number so that we could text him when we arrived at the venue.
Around 6 p.m. my mom and I arrived downtown at the venue, 'Come and Take It Live', in East Austin. We weren't sure where to wait, so we posted up out front, awaiting our savior, Troy, to let us both in. The meet and greet was originally supposed to be at the beginning of the show, but the manager informed us they were running a bit late, and that the Meet and Greet was now going to be at the end of the show, around 11 p.m. Although this news was a bummer, it didn't stop us from looking forward to the concert.
We were finally let in around 7 p.m., and with my mom's connections via Troy, she got in with a free VIP ticket, saving us around $60. She felt proud to have done this herself and I was surprised they gave her a ticket that easily. It had been making me nervous thinking about meeting rappers by myself.
The show was the best I'd ever been to. In my whole life, I had yet to go to a concert that was fun the entire time. The venue was intimate, the music was loud, and my mom and I danced together like we were best friends.  I was thrilled that she liked the music and was dancing with me like she was young again. It made me feel safe she was with me and had my back the entire time.
About an hour or two before the meet and greet was supposed to begin, I decided I should move closer to the artists, entering a jumping crowd of kids my age and older. I had been to rap concerts before, but never had I been this close to the artists. I touched the hands of every single artist on stage, having shoved my way into the front row. It was all fine and dandy until, all of a sudden, I found myself in the center of a mosh pit, which is where a circle is opened up within a crowd and people (boys) shove each other from side to side, often being lifted above everyone else to crowd surf. One minute I was having a great time, the next my face was kicked in by a crowd surfer. I could hear my nose crack, and instantly what I assumed was sweat began pouring down my face. I had to use all of my might to lift myself from underneath the moshing teenagers and find a way out of the crowd. Upon seeing my face, people looked at me with horror. I knew that something was wrong when I held my nose in my hands and saw blood pouring out.
After squeezing out of the crowd, I was quickly picked up by a pair of guards. They sat me down on a bar chair and gave me heaps of ice and rags to apply to the wound. My mom rushed over, emotional and scared for me. I was crying, but more so because I was missing out on seeing my favorite rapper, Maxo Kream. After getting the bleeding under control, I was able to enjoy the concert from a distance. I still sang and danced with a plethora of 20-something guys whom I assumed were friends with the artists. I was right. Even though it was assumed I had broken my nose, I'd never been more happy.
Once my mom and I calmed down, we were escorted into the VIP line. Since I've gotten older, it's gotten much easier for me to make friends so, naturally, I was talking to everyone in sight. I didn't stop talking even when I saw one of my very favorite rappers, Maxo Kream, standing right in front of me.
He was fluffy like a marshmallow and very polite. My mom and I were escorted into the VIP area upstairs, where photographers and rappers lounged. Just as I had expected, everyone thought it was hysterical of me to bring my mom to a concert. "You must have a cool mom," they would comment. Yeah, I thought, she has her moments.
After we met Maxo Kream and took some photos, we walked downstairs once again before leaving to buy a T-shirt. As soon as we descended back into the real world, we were shot right back up to the Hollywood Hills, where I was starring in the face of my favorite person in the entire world, Adam22.
A wave of euphoria strong enough to cure my broken nose smacked me in the face. I had never been so starstruck. I ecstatically ran over to him and his crew, including an international DJ named 'Cam Girl', who I followed closely with Adam. I got to talk to Adam for a good 20 minutes and he even put me in his vlog. I couldn't believe that I had the opportunity to talk to him, let alone to buy a shirt from him. I thanked God I had my mom with me, for she made me feel safe at all times, especially when I started to get nervous and she calmed me down.
The moral of the story has to be obvious. Never underestimate the power your mom has. Just because she's got a few years on you and may not always be the hippest, you can guarantee she still has that sparkle.
About the Writer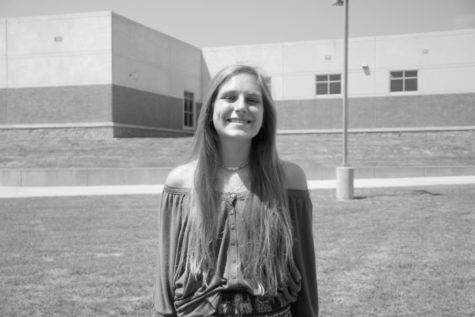 Lanie Malone, Staff Reporter
Lanie Malone is a junior at Vandegrift and this is her second year on staff. She would like to major in journalism at the University of Texas in the future. Lanie enjoys writing personal columns and personality pieces reflecting daily life, as well as doing interviews with the surrounding Four Points area. She hopes to improve her writing skills and go beyond her comfort zone to this year in the Newspaper.