College visits: University of Alabama and Ole Miss
Being in the home stretch of my senior year I thought that it would be a good idea to go visit my top two schools to try and help me decide where to attend college next year. I am looking at the University of Alabama and the University of Mississippi (more commonly known as Ole Miss). I had toured both schools before but thought that it would help me make my decision if I went back one more time. I love both schools because they are both in the heart of the south, they revolve around football and the food is incredible. I went on this trip with the mindset that I was going to decide on a college so that I can pick a roommate, classes and get all the important stuff out of the way. Well my "find out where I am going to college trip" did not help me as much as I thought it would, because I still have no idea where I am going.
The University of Alabama
I toured Alabama first and they knocked the ball out of the park when it came to giving me the grand tour. My day started at 8:30 a.m. and did not end till 4 p.m., and I was busy every second. I met with teachers and tutors at the Center for Academic Success, got a tour of the digital media center, which is home to the Nick Saban show, nightly news and radio stations and it is all located in the Bryant Denny Stadium. I plan on majoring in broadcast journalism so it was really great to see where I would be spending my most of my time. I went to lunch with a girl that majors in public relations and it was nice to hear a student's perspective on what campus life is like. The campus tour overall was really impressive. Alabama is classified as a medium size university with 31,000 students with 45 percent being in-state and 55 percent being out of state. The university has put a lot of money into making their campus top of the line, from their dorms, recreation centers and classrooms. You can really tell how much everyone that goes to school there loves it. I learned a lot about the majors that I am interested in and feel that I would get a ton of real world experience if I go there, since they are currently the number one public relations school in the country. Overall my Alabama experience was very impressive and led me to believe that I would be really happy and get a great education there.
The University of Mississippi
Ole Miss had a lot to live up to after my Alabama visit. However, as soon as I got there I fell in love with the town of Oxford. It is such a cute college town. Everything is in the "Oxford Town Square" and the town works closely with the university. I knew that I was in the Bible belt but I didn't realize the full extent of the term, until I got there because on Sunday there is literally nothing open. Sunday is the day of rest, and the town of Oxford takes that seriously, but I actually liked that aspect of the town. On Monday I got a formal tour of Ole Miss and fell in love with the campus. It's in a circle with everything revolving around the famous grove, there are no cars allowed where classes are. Ole Miss is about half the size of Alabama with it only 17,000 students. I enjoyed how small the campus was and that you could walk the whole campus without it taking too long. In fact, you can walk from the front of campus to the back in 12 minutes. Honestly, If you had asked me where I was going to school just after the tour I would have told you Ole Miss for sure. After the tour I went to see the housing, which was nice, not as nice as Alabama, but doable as I would be getting the "college roommate experience." Then I toured the the communications school. The communications school at Ole Miss is called the Meek School of Journalism and I was not impressed, to say the least. There are only 1,300 students in the school of journalism as a whole, with 800 integrated marketing and communications majors, which is a new major that was created three years ago. It really doesn't even compete with Alabama's communications/journalism school. The classes seemed like they were small enough to where you would get to know your professors, but I am not sure how much I would actually learn. The one positive thing that I took away from the journalism school was that there would be a lot less competition and I could do really well. Where as at Alabama I would have to work really hard to get experience and would be a small fish in a big pond.

If my college decision was based strictly on looks, then I would be going to Ole Miss without a doubt. But the whole point of going to college is getting an education (so I am told) and Alabama would do that for me. So Hotty Toddy or Roll Tide? Because I'm still not really sure.
About the Writer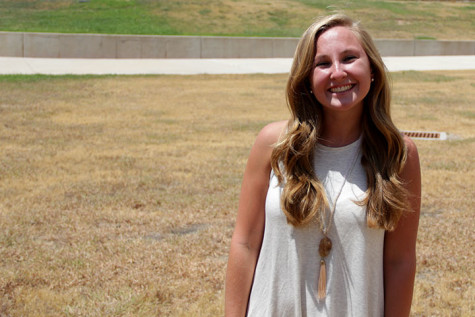 Kate Murphy, Newspaper President
Kate Murphy is a senior, she has been a writer of the Vandegrift Voice for three years. She is the current President for the Newspaper where she plans events and helps encourage her fellow students. Kate enjoys writing about sports and lifestyle articles, she enjoys writing about her fellow classmates and getting to know them. Go Vipers!