Theatre creates a student directing program
This year, the theatre program decided to add a new aspect: student directors. Various high schools across the district have these directing programs and therefore influenced Vandegrift's theatre directors to create the same. Currently there are four seniors enrolled in theatre II classes, myself being one of them. We don't participate as normal students in these classes. Instead, we lead the theatre II students in activities and eventually direct plays of our own.
At first, when I was asked to become a student director at the end of last year, I was extremely unsure. Directing has a very fine line between acting and tech that leans more towards the acting side. I have been involved in theatre for as long as I can remember, but I have always been behind the scenes due to my fear of being on stage. At first I was terrified at the prospect of having to teach other how to act, which I something I can't do myself, but then I decided that maybe doing just that would make me a better technician.  I ultimately decided to give the class a try.
At the beginning of the year I came in knowing that I would direct two shows: a children's show that would travel to the elementary schools in the fall and a senior one act play in the spring. I did not know that I would be teaching the theatre II class everyday with the student director that was paired with me. From the first day on, we led the class in acting exercises, games and lessons. The teaching part has been a challenge for me in particular. I have never taking an acting class while my co-director is in the varsity theatre class. She ended up leading most of the lessons, while I found my forte in critiquing the students' work and directing my own show.
I have watched my directors critique the actors in almost every show I've been in. When it gets closer to the date of the show, they begin to let the actors run on their own and give them notes on their performance at the end of rehearsal. In the first semester of our directing class, we watched the students perform duet scenes and practiced critiquing them. I found that it was easy for me to catch mistakes and point out places of improvement in their scenes.
Choosing a children's show was difficult for me, mainly because I wanted it to be perfect and wasn't clear on when I needed to have it chosen by. Eventually I picked a simple show called Red vs. Wolf that went through the story of Little Red Riding Hood and her encounter with the wolf in two different ways. By the time we auditioned our theatre II class for the children's shows, I knew what type of actor each student was and exactly who I wanted for each role in my cast. After casting the show, blocking it was fairly easy and took only two weeks. However, I began to struggle when we began running the show and my cast often forgot what I had told them to do. Then, after we solved that problem by reviewing and simplifying the blocking, the cast began coming to class with low energy. We solved that problem as well by practicing the show in front of the other student directors' cast.  
Having free reign over the class really helped me as a theatre technician, as I had hoped it would. Although at first I felt incompetent as compared to someone who had taken acting classes, I soon learned that I had seen enough theatre to understand acting. I just needed to get out of my comfort zone and apply what I had observed. Critiquing was easy for me because I was used to picking up on problems as a stage manager, but as a director I had to get more on the actors' level. As a student director in the first semester I was forced to do just that and I look forward to applying the skills I picked up in my senior one act this spring.
About the Writer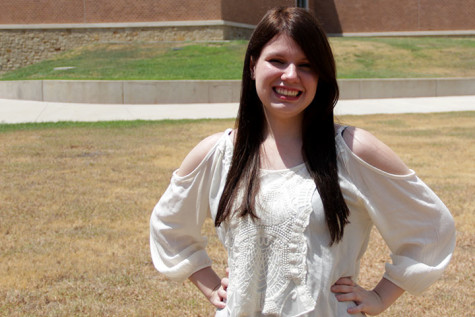 Alaina Galasso, Editor in Chief
Alaina Galasso is a senior at Vandegrift and this is her third year on the newspaper staff. She competes in journalism for Academic UIL and was previously sixth in district for Feature Writing, fourth in district for News Writing, first in district and region for Editorial Writing and second in state for Editorial Writing. She also works as a professional theatre technician outside of school and is an active member of the school's theatre department. She is currently the department's head stage manager but has participated in lighting, run crew and sound since she was a freshman. For her work in theatre she is a 9 star International Thespian and current secretary of Thespian Troupe 7613. She has also been involved in Student Council, the HCEF Inventeam, National Honor Society, Vision Dance Company, AVID and Latin Club throughout high school. She hopes to attend a top university up north and plans on majoring in Theatre Design, Production, and Management with a minor in Creative Writing.