Volunteers and Parent Entitlement
Hang on for a minute...we're trying to find some more stories you might like.
Football games are a time of fun and friendly competition. A time for both parents and students alike to enjoy the beginning of the weekend while showing their Viper pride. But this season that has not been the case for a number of students. Due to difficulties with adults who come to the games, some students, specifically volunteers, had trouble doing their job efficiently.
At home games, the FFA members were in charge of checking tickets for the reserved seating, located above the student and general admission sections. The students were instructed to check printed tickets and direct the parents and other 'reserve members' to their seats. Members were required to have their tickets with them at all times, and were expected to show them to the volunteers every time they went up the stairs, regardless of how many times they've already shown it. If, for example, someone did not have their ticket with them, but a family member or friend did, the person with the ticket could show it to the volunteer and only then, could the person be let in.
Several volunteers have experienced issues with people in the reserved section, and although they are just doing their job as instructed, they feel the wrath from adults for enforcing the rules
Junior and FFA historian Hannah Olsen experienced being yelled at, confronted, and even being called names by adults, most of whom are parents. She felt that parents had a sense of entitlement that makes them annoyed or frustrated at the slightest inconvenience.
And she was not the only student was bullied by parents. I also volunteered with the FFA members, and had people yell at me for things I could not control, like not having a way to get up to the bleachers in a wheelchair. These volunteers at school games are no more than high school students helping out their clubs and fellow students.
It happened so frequently, and so openly to so many students, that it caught the attention of many across campus. It has grown into a widely recognized issue, but it is an issue that has not being resolved. Parents should be supporting the entire school at these events, not just the players on the field. All students, no matter what they are doing at the games, need to be respected. Especially if their intent is to serve and help others, and not just to have fun with their friends. These students did nothing wrong. Yet, parents who think that if the student has a bright yellow shirt on, they are immune to verbal abuse and do not deserve respect.
The FFA president, junior Lila Ross, has also experienced this problem. Last year she refused to let a lady sit in the restricted section with her friend because she only had a general admission ticket. The woman started yelling at Ross and told her she didn't have to take orders from a 16-year-old.
Many of these parents have children the same age as me, my friends, classmates and volunteers. We are not professional football game ushers. We don't get paid for helping parents and other adults find their seats. We are still learning how the real world works, and how to interact with people in general. All we are doing is following directions, and we can't help it if we aren't aware of everyone's personal situation at every game.
So next season when you see a teenager in a yellow neon shirt, tell them to keep up the good work. Tell them that they are being helpful, and are appreciated, because more often than not, no one has.

About the Writer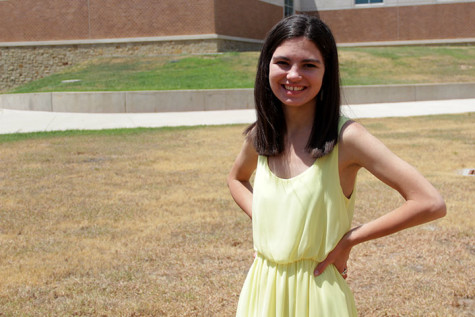 Emma-Rose Floyd, News Editor
Emma-Rose is a senior at Vandegrift. She has been a part of newspaper since her sophomore year. Positions she has held include Social Media Manager, and News Editor, a position she has had for two years. Emma-Rose  is also an active member of Key Club, dances in her free time and is a member of the UIL journalism team. She hopes to major in communications in college and become a full-time journalist.