Should high school students trick-or-treat?
High school students fight an internal battle over whether they should or shouldn't trick-or-treat on Halloween. We have great childhood memories of dressing up in elaborate store-bought costume, approaching the scariest looking houses with family or friends and counting our candy at the end of the night. As fun as it was, once a student reaches high school, they are probably too old to go door to door asking for candy.
High school students who still trick-or-treat are either really into the spirit of Halloween or just want the free candy. But everyone knows that once a person reaches a certain age, it just isn't socially acceptable to trick-or-treat anymore. There comes a time when one has to let go of such childish things. Trick-or-treating mainly targets younger children and their parents. No one wants high school students running around terrorizing their children the night of Halloween.
Once you're at least a sophomore, its time to let go of trick-or-treating for good. It's no longer appropriate to buy a legitimate costume and go door to door with your candy bag outstretched. There are many different ways to otherwise celebrate Halloween without imposing on a smaller children's favorite holiday. High school students can still celebrate Halloween with scary movies, haunted houses or answering the door for the trick-or-treaters instead of being the one knocking.
About the Writer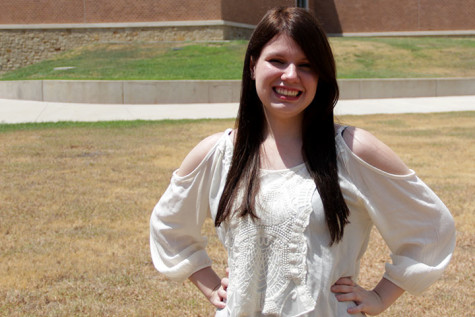 Alaina Galasso, Editor in Chief
Alaina Galasso is a senior at Vandegrift and this is her third year on the newspaper staff. She competes in journalism for Academic UIL and was previously sixth in district for Feature Writing, fourth in district for News Writing, first in district and region for Editorial Writing and second in state for Editorial Writing. She also works as a professional theatre technician outside of school and is an active member of the school's theatre department. She is currently the department's head stage manager but has participated in lighting, run crew and sound since she was a freshman. For her work in theatre she is a 9 star International Thespian and current secretary of Thespian Troupe 7613. She has also been involved in Student Council, the HCEF Inventeam, National Honor Society, Vision Dance Company, AVID and Latin Club throughout high school. She hopes to attend a top university up north and plans on majoring in Theatre Design, Production, and Management with a minor in Creative Writing.