Starting the New Year Right
The empty sky holds its breath as a single streak of light shoots up, then releases as the streak explodes with color. More join the lone streak and within moments the sky is alive with every color imaginable. The immense crowd below erupts with cheers. Glasses are being clinked, hugs given and received, and cries of 'Happy New Year' echo as each individual thinks about what the upcoming year has in store for them.
The first few days of the New Year are always filled with a feeling of newness. People find new ways to be motivated by making empty promises that they have intention to keep, but just never do. I'll go to the gym every other day to get more in shape or I'll compliment someone new once a week to become a better person. Its tradition to make these resolutions at the beginning of a New Year, but who ever really fulfills them? They start out with vigor but by the end of the year they have been consumed with distractions.
The idea of a New Year is to start fresh, but it can also be seen as a starting point. An opportunity to reinvent yourself to be better, to make a difference. A chance to look at the world as if it's waiting for you.
This doesn't mean making resolutions that you won't keep. However, it does mean altering your attitude to try, as you do every year, to make this one the best yet. So while we take on this New Year full of openings, keep in mind that this could be the year something changes for the better. Don't wait for it to happen or make promises that are unrealistic. Instead use this New Year as a starting point, an opportunity, a chance, and maybe this year really will be the best.
About the Writer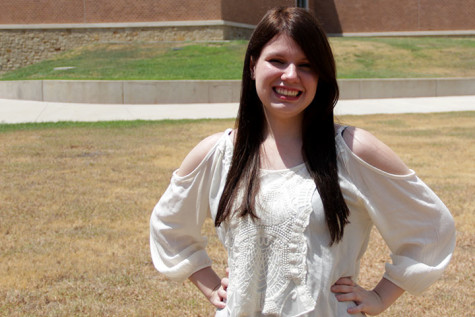 Alaina Galasso, Editor in Chief
Alaina Galasso is a senior at Vandegrift and this is her third year on the newspaper staff. She competes in journalism for Academic UIL and was previously sixth in district for Feature Writing, fourth in district for News Writing, first in district and region for Editorial Writing and second in state for Editorial Writing. She also works as a professional theatre technician outside of school and is an active member of the school's theatre department. She is currently the department's head stage manager but has participated in lighting, run crew and sound since she was a freshman. For her work in theatre she is a 9 star International Thespian and current secretary of Thespian Troupe 7613. She has also been involved in Student Council, the HCEF Inventeam, National Honor Society, Vision Dance Company, AVID and Latin Club throughout high school. She hopes to attend a top university up north and plans on majoring in Theatre Design, Production, and Management with a minor in Creative Writing.